Malay-style coconut chicken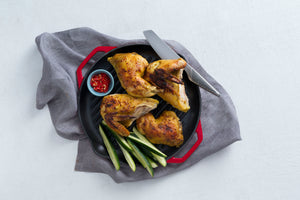 Difficulty

Easy

Active time

50 minutes

Total time

25 hours 40 minutes

Servings

4 portions
3 dried chillies
4 spring onions/shallots, trimmed and cut into thirds
2 cm piece fresh ginger, peeled
2 garlic cloves
270 g coconut milk
1 stalk fresh lemongrass, white part only, cut into pieces
2 fresh Kaffir lime leaves, stalks removed and leaves torn into pieces
1 tsp tamarind paste
2 whole cloves
¼ - ½ tsp chilli powder
½ tsp ground turmeric
1 tsp salt
1400 - 1600 g whole chicken, butterflied (see Tips)
Preparation
Place chillies, spring onions/shallots, ginger and garlic into mixing bowl and chop 3 sec/speed 7. Scrape down sides of mixing bowl with spatula.
Add coconut milk, lemongrass, Kaffir lime leaves, tamarind paste, whole cloves, chilli powder, turmeric and salt, then cook 12-15 min/90°C//speed 2, placing simmering basket instead of measuring cup onto mixing bowl lid, until sauce thickens. Transfer into a jug and set aside to cool completely.
Place chicken into a large snap lock bag. Pour cooled coconut sauce into bag with chicken, seal and turn to coat in marinade. Place into refrigerator overnight to marinate.
Allow chicken to return to room temperature. Scrape off excess marinade and reserve. If roasting in the oven, place chicken into a roasting tray. Heat a barbecue or oven to 180°C. If using MEATER®, insert into the center of the thickest part of the chicken, making sure the safety notch is fully inside the chicken. Open the MEATER® app on your phone and connect to your MEATER®. When connected, select "Tap to Setup Cook", choose poultry, then select whole chicken and choose the preferred target cooking time. Barbecue or roast chicken for 45-60 minutes (180°C), basting with reserved excess marinade and turning frequently, until juices run clear when pierced with a skewer in the thickest part of the chicken and skin is browned and crisp or until MEATER® app indicates to remove from heat. Allow chicken to rest for 10 minutes, carefully remove MEATER®, then cut into portions to serve (see Tips).
Tips
To butterfly chicken, place whole chicken breast side down and cut down either side of the backbone. Discard backbone. Turn chicken breast side up and press down firmly on breastbone to flatten out. Score the thickest part of the legs and breasts. Alternatively, you can ask your butcher to butterfly the chicken for you.