Prawn and saffron arancini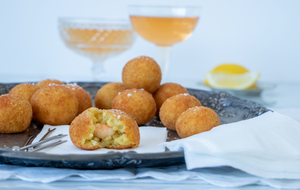 Difficulty

Easy

Active time

45 minutes

Total time

45 minutes + refrigeration time

Servings

40 pieces
Arancini
150 g Parmesan cheese, cut into pieces (3 cm)
1 brown onion (approx. 120 g), cut into quarters
2 garlic cloves
50 g unsalted butter
50 g Arborio rice
½ tsp ground black pepper
150 g white wine
1 pinch saffron
650 g water
3 tsp Vegetable stock paste (see Tips)
Assembly
130 g panko breadcrumbs
½ tsp sea salt
¼ tsp ground black pepper
6 tbsp plain flour
3 sprigs fresh flat-leaf parsley, leaves only, chopped
280 g cooked prawns, cut into pieces (2 cm)
2 eggs, lightly beaten
vegetable oil (approx. 750 g), to deep fry
lemon, cut into wedges, to serve
Preparation
Arancini
Place Parmesan into mixing bowl and grate 10 sec/speed 9. Transfer into a bowl and set aside. Rinse mixing bowl.
Place onion and garlic into mixing bowl, then chop 3 sec/speed 7. Scrape down sides of mixing bowl with spatula.
Add butter and sauté 3 min/120°C/speed 1.5, without measuring cup. 4. Add rice and pepper, then sauté 1 min/120°C//speed 1.5, without measuring cup.
Add wine and saffron, then cook 2 min/120°C/speed 1, without measuring cup. Scrape bottom of mixing bowl with spatula.
Add 650 g of the water and stock paste, then cook 13 min/100°C//speed 1.5.
Add 100 g of the reserved Parmesan and stir to combine. Pour into a shallow bowl and set aside to cool for 30 minutes. Cover and place in the fridge overnight. Clean and dry mixing bowl.
Assembly
Place panko crumbs, salt and pepper into mixing bowl, then mill 2 sec/speed 8. Pour panko mixture onto a plate. Add remaining 50 g Parmesan cheese and stir to combine. Place flour on a separate plate.
Add parsley to cooled risotto mixture and stir to combine (see Tips). Roll 1 tablespoon of the cooled risotto into a walnut-sized ball. Press a hole in the middle of each ball, then place a prawn piece inside and press risotto around it to enclose and form a ball.
Roll each arancini ball in flour, dip in lightly beaten egg, then coat in panko crumb mixture and place onto a tray. Repeat to make approximately 40 balls. Place in the fridge for a minimum of 30 minutes ahead of frying.
Set aside a tray lined with paper towel. Place a deep saucepan over medium-high heat and add enough oil to deep fry. Heat oil to 170°C (see Tips). Working in batches, fry arancini for 3-4 minutes or until golden brown. Transfer onto paper towel to drain.
Serve warm with lemon wedges.
TIPS
To make your own Vegetable stock paste, see Cookidoo® for the recipe.
To test oil is correct temperature (170°C), drop a small cube of bread into the oil, it should turn golden turns golden brown in 20 seconds.
If you like a cheesier arancini, stir 200 g of coarsely grated mozzarella through the cooled rice in step 8 and double coat the arancini ahead of frying.
To cook your own prawns: Place 250 g water into mixing bowl. Place Varoma dish into position and weigh prawns into it. Insert Varoma tray and place remaining prawns in a single layer onto it. Secure Varoma lid and steam 8-10 min/Varoma/speed 2, until prawns are cooked, moving prawns around to ensure even cooking.
Tips & Tricks
Useful items:
bowl, shallow bowl, plastic wrap, plate, tray, paper towel, deep saucepan
Thermomix® parts:
measuring cup, spatula, simmering basket
Kitchen equipment:
refrigerator, stove top