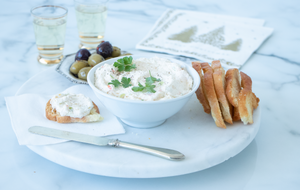 Difficulty

Easy

Active time

15 minutes

Total time

45 minutes + refrigeration time

Servings

10 portions
1040 g water
1 fresh lobster tail or crayfish tail, uncooked (approx. 250 g with shell - see Tips)
ice cubes
cold water
1 tsp gelatine powder
2 spring onions/shallots, trimmed and cut into pieces
120 g cream cheese
120 g sour cream
3 tsp lemon juice
Tabasco® sauce, to taste
sea salt, to taste
ground black pepper, to taste
bread or crackers of choice, to serve
Preparation
Place 1000 g of the water into mixing bowl and heat 10 min/100°C/speed 1 or until boiling.
Immediately add lobster tail and cook 10 min/100°C/speed 1 or until opaque. Meanwhile, fill a bowl with ice cubes and cold water and set aside.
Using tongs, remove lobster from mixing bowl and plunge into the iced water to stop the cooking. Once cool, cut tail in half lengthways and remove flesh. Discard any innards or silt. Rinse mixing bowl.
Place lobster meat into mixing bowl and shred 5 sec//speed 4. Place in a bowl and set aside.
Place remaining 40 g water and gelatine into mixing bowl and set aside for 2 minutes, then heat 1 min/60°C/speed 1 or until gelatine has completely dissolved.
Add spring onions/shallots, cream cheese, sour cream, lemon juice, Tabasco®, salt, pepper and a ¼ of the shredded lobster, then mix 10 sec/speed 5.
Add remaining lobster and combine 10 sec//speed 2.
Spoon into a serving dish (see Tips). Cover and place in the fridge to set (approx. 4 hours or overnight). Remove pâté from the fridge 10 minutes before serving. Serve with bread or crackers of your choice (see Tips).
TIPS
You can replace lobster with crayfish, if desired.
You can place pâté mixture into a lightly greased mould of choice to set. Un-mould onto a serving plate and garnish, as desired.
Garnish with extra sliced lobster and caviar, if desired.
Serve pâté with crudités as part of a grazing board. See Cookidoo® or our top Christmas recipes for inspiration.
This recipe is based on a contribution by Tina Singline.
Tips & Tricks
Useful items:
bowl, tongs, serving bowl, plastic wrap, refrigerator