Vac-U-Seal Vacuum Sealer Set
Vac-U-Seal Vacuum Sealer Set
$119.95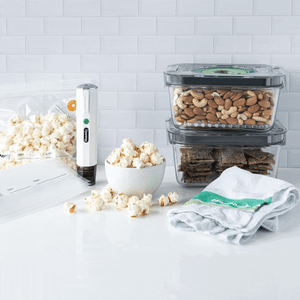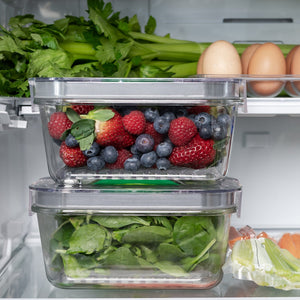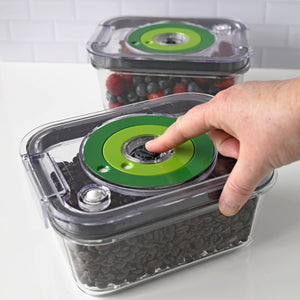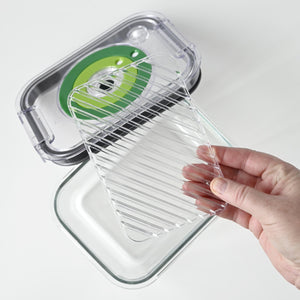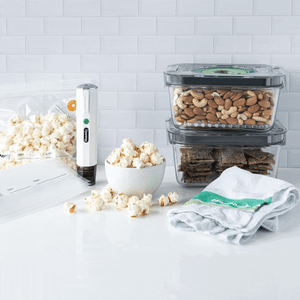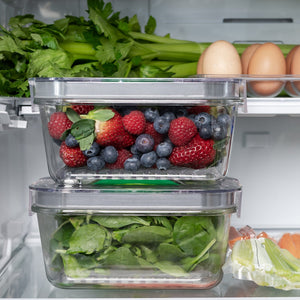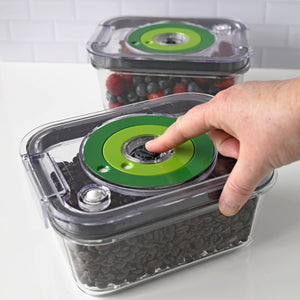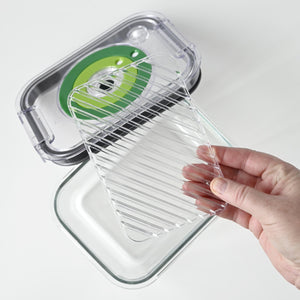 Vac-U-Seal Vacuum Sealer Set
Reusable Vac-U-Seal vacuum sealer containers are your money-saving
saviours
, food-waste-reducing revolutionaries and meal-prepping game-changers. They're the healthiest, quickest and easiest way to keep all your fresh ingredients, pre-prepared meals and leftovers fresher and tastier for longer.  The must-have bundle
contains two 1.3L reusable vacuum sealer containers, 1 vacuum sealing wand
and USB charging cord,
and 5 vacuum seal bags. 

Plus, the glass containers are heat resistant up to 300

°

C, so you can use them in your oven!
$119.95
$149.85
Save $29.90
Keeps ingredients, meal prep and leftovers fresh

Locks in nutrients and marinates in minutes

Ultra-resistant to thermal shock

Pressure indicator and dial to record storage date
Send a hint
Get the gift you love
Send a hint by
Removes air in approx. 10 secs
High-quality borosilicate glass
Glass container and BPA-free lid
Oven, fridge and freezer safe
Discover the revolutionary Vac-U-Seal
How to remove and assemble the Vac-U-Seal lid
It's not necessary to remove the date rings to clean the lid, but if you'd like to, this video shows you how you to put them back together.
What's included with Vac-U-Seal Vacuum Sealer Set Vac-U-Seal Vacuum Sealer Wand
Vacuum sealer wand to remove the air in your Vac-U-Seal containers and sealer bags
Vac-U-Seal Vacuum Sealer Wand Vac-U-Seal Container
Two Vac-U-Seal containers to seal in the freshness, flavour, and nutrients of your food
Vac-U-Seal Container Bags for Vacuum Sealer (Pack of 5)
Five vacuum sealer bags to accompany your Vac-U-Seal container, which can also be used for sous vide
Bags for Vacuum Sealer (Pack of 5)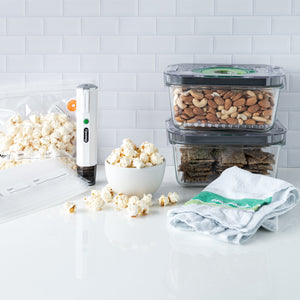 Keep food fresher for longer
When you seal your fresh fruit and vegetables in Vac-U-Seal Vacuum Sealer Containers using our Vacuum Sealer Wand, you're removing the one ingredient that causes food to ripen and bacteria to grow.
Take an avo for example – once it's sliced open, it's brown within a day. By taking out the oxygen, you're slowing that spoilage process right down and helping your food stay naturally fresh for longer.
Please note that Vac-U-Seal Containers are compatible with the Vac-U-Seal Wand only (included in this set), and not compatible with any other models or brands.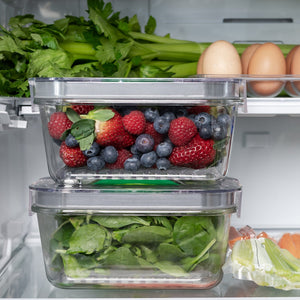 Save money and reduce waste
On average, one in every five bags of grocery shopping ends up in the bin. A third of that is fresh produce, like squishy tomatoes, bendy carrots, brown avo and limp lettuce. Imagine paying $11 for a lettuce and throwing half of it away! And with the cost of our five-a-day on the rise, using vacuum sealer containers to reduce waste and keep food fresh is the smart solution.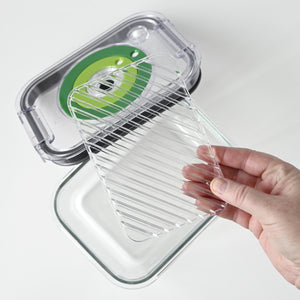 Caring for your containers
Vac-U-Seal glass vacuum sealer containers are super-easy to clean. However the lid and food tray are not dishwasher safe. We recommend handwashing the lid and food tray with warm soapy water and a soft cloth to keep them looking their best. Avoid harsh, high-alkaline detergents, abrasive cleaners and scrubbing pads.
Learn more about Vac-U-Seal with our vacuum sealer guide:
How to seal with Vac-U-Seal
1. Place food in container and close the lid. Make sure side handles are clipped down to seal the lid.

2. Set the date dial on the container lid to record your storage date before putting your food in the fridge or freezer.

3. Align the nozzle of the Vacuum Sealer with the dark green button in the centre of the container lid and switch the vacuum on.

4. Wait for the white pressure button to pop down. Remove the vacuum sealer as soon as the container is sealed to avoid distortion.

5. Release the air from the container by lifting the air valve until the pressure indicator lifts. Take off the lid by unclipping the sides.
Explore our vacuum sealer friendly recipes
Technical Specifications Vac-U-Seal Vacuum Sealer Container Vac-U-Seal Vacuum Sealer Wand Vacuum Sealer Bags
| | | | |
| --- | --- | --- | --- |
| Height | 9.5cm (7cm internal) | 17cm | 22cm |
| Width | 15cm (13cm internal) | 3.5cm base (3cm top) | 21cm |
| Length | 20cm (17.5cm internal) | — | — |
| Volume | 1.3L | — | — |
| Heat resistant maximum temperature (glass container only) | 300°C | — | — |
Frequently Asked Questions
Yes, you can. Press down the side clips to securely close the lid.
This is an optional drip tray which helps when storing moist or freshly washed ingredients to prevent faster degradation of food items due to excess water and/or leakage.
Turn the dark green dial that represents the day, and the light green dial that represents the months.
The glass container and grey seal are dishwasher safe, but we recommend that the lid and drip tray is hand wash only.
The glass container is microwave safe. However we wouldn't recommend putting the lid, or tray in the microwave.
It's not necessary, the bags are a different system. The vacuum sealer bags are primarily single use only. The container can be used repeatedly.
No, the old wand is not compatible with the Vac-U-Seal system. The only wand that is compatible which you can buy on its own is https://thermomix.com.au/products/vacuum-sealer-1.
Reviews
Vac-U-Seal Vacuum Sealer Set
I absolutely love them. The best way to keep fruit until you need the excess. Also great for all left overs.
Handy vacuum sealer
Can't wait to use this sealer, comes highly recommended
Vacuum sealer set
I can not speak highly enough about this. The quality of containers and the ease of sealing containers is more than 5 stars. Perfect for my caravan.
Awesome
A Really good piece of kit AWESOME