LEVEL UP YOUR CLEANING GAME
Guide to the best cordless stick vacuum
Guide to the best cordless stick vacuum
Everything you need to know about cordless stick vacuums
Stick vacuum cleaners, or cordless vacuum cleaners, take the hard work out of cleaning. Not only do these flexible, portable vacuums clean your floors, but with the right attachments, can clean furniture, mattresses, cars, and all those hard-to-reach places! Learn everything you need to know about stick vacs with our guide to buying the best cordless stick vacuums and how you can level up your cleaning game.
What is a cordless stick vacuum?
A cordless stick vacuum cleaner is a lightweight type of traditional upright vacuum that is designed to be compact, and flexible to use around the home. These cord-free vacuums have a slim shaft handle and are easy to manoeuvre from room to room without plugging and unplugging cables into a power supply. Instead, sticks vacs are powered by a compact, yet powerful motor which sucks and traps the dirt into a canister, cup, or bag.  
The convenient, versatile nature of cordless stick vacuums makes it easily one of the most popular household cleaning appliances in homes around the world. 
Stick vacuums vs. Handheld vacuums
So, you might be thinking, what's the difference between a cordless stick vacuum and a handheld vacuum? And do you need both? If you've already got a mini handheld vacuum such as the Kobold® VC100 Handheld Vacuum (VC100), you'll find that you're able to quickly vacuum up those small accidental messes on furniture or in your car. A handheld vacuum is a compact, portable little machine which fits nicely in your hand and can be carried around on the go. However, a hand vacuum isn't always ideal for floor cleaning and therefore should be a mini companion to your main full-sized vacuum cleaner. That's where your cordless stick vacuum comes in! Learn more about the benefits of mini vacs with our handheld vacuum guide.
What is the best stick vacuum?
If you're in the market for a versatile, powerful cordless stick vacuum, look no further than the sleek and stylish Kobold® Cordless Vacuum (VB100). Unlike heavy, bulky corded vacuum cleaners, this cordless stick vacuum system flexibly glides and navigates along almost any surface, with the help of its many vacuum cleaner attachments. 
Although lightweight, the Kobold® Cordless Vacuum should not be underestimated, as it is powered by two-motor technology and includes a rechargeable lithium-iron battery for up to 80 minutes of interrupted cleaning. 
With the help of this cordless stick vacuum, allergy sufferers can now vacuum without a worry, as you're able to capture up to 99.9% of allergens into a hygienic filter bag. This Sensitive Choice accredited filter bag is innovatively designed, and on average requires replacement every 6-8 weeks. It's designed for mess-free, easy removal – unclip, remove, and replace! This means minimal contact with the dirt, dust and pet hair collected! 
What are you waiting for? Get your hands on this durable, efficient stick vacuum and discover next level cleaning. 
Stick vacuum tips, tricks, and advice
How do you use a stick vacuum?
Lucky for you, cordless stick vacuums make cleaning a breeze! Most stick vacuum cleaners have high-powered smart technology and can be broken into smaller parts, meaning you can modify the cleaning system to suit your needs. When it comes to using cordless stick vacuums, it will vary depending on the model, brand, and environment you're cleaning. 
Using stick vacuums has never been easier with the Kobold® Cordless Vacuum. By following these few simple steps, you can level up your cleaning game for forever. 
Press the circular green button on the top of your Kobold® vacuum to switch it on.

 

Start vacuuming your floors in an up and down motion, around furniture and in between crevices. The vacuum can be parked in an upright position when needed by angling the stick upwards and clicking into place.

 

Press down on the green button on the head of the vacuum to switch the brush speed between normal and turbo.

 
Cleaning modes & suction power
The LED lights on the front of the Kobold shaft will indicate the level of suction power. This can be changed using the grey button. 
1 LED: Low suction power – for lightweight rugs

 

2 LEDs: Medium suction power – for average dust and dirt

 

3 LEDs: High suction power – for excessive first and high pile carpet
Care tips & maintenance
To prolong the longevity of your vacuum cleaner, be sure to remove, clean and replace the brushes when worn out, as well as clean the motor protection filter. If the LED lights turn yellow, this may indicate a blockage and therefore you should clean out the duct on the bottom of your vacuum head. 
For extra care tips, and how to use your Kobold® Cordless Vacuum, see the video below. 
Getting started with your Kobold® Cordless Vacuum
Stick vacuum cleaner attachments
As with every hero, there is a sidekick, and with every great vacuum cleaner comes a range of vacuum attachments to enhance your cleaning even further. Equipping yourself with the right vacuum accessories is crucial to ensure you've got the power to get any cleaning job done. The best vacuum cleaning attachments for the Kobold® Cordless Vacuum include:
2-in-1 vacuum mop attachment
Attaching the Kobold® 2-in-1 Vacuum Mop will turn your vacuum into the ultimate multifunctional cleaning system. The 2-in-1 vacuum mop head will enable you to cut your cleaning time in half by allowing you to vacuum your floors, whilst mopping simultaneously.
You can also shop the Kobold vacuum mop head and stick vacuum in a bundle to save you time and money!
From skirting boards and bookshelves to car interiors and couches, get to those hard-to-reach places! This vacuum accessory set includes various nozzles for corners and joints, a soft brush to gently remove dust, a telescopic tube for high up cleaning, and a vacuum cleaner hose to connect all your attachments.
Mattress & upholstery set
For all your mattress and upholstery cleaning, this set of attachments is perfect! It includes an upholstery brush with an integrated hose and two counter-rotating brushes to get even the most stubborn dust, dirt, and pet hair from all types of fabrics. This set also features attachments to remove any microparticles and allergens from your mattress. Use the Lavenia mattress cleaning powder, along with the mattress freshener attachment and mattress suction attachment for a hygienic, deep clean! 
How do you empty a stick vacuum?
Traditionally, cordless stick vacuums will have a dust bin canister which should be emptied after almost every use. This dust bin is emptied by releasing the canister's opening over a bin, allowing all the collected debris to fall in. However, this is not always easy, as it can create a dust cloud, which can be an issue for some allergy sufferers. In comparison to most cordless stick vacuums, the Kobold® Cordless Vacuum uses TÜV-Nord certified premium filter bags, which can be removed easily without mess. The filter bags have a 0.8L capacity, allowing for an average of 6-8 weeks of vacuuming before changing. Once the LED display lights light up yellow, the filter bags will need to be changed. Your Kobold® Cordless Vacuum will come with 1 filter bag in the machine, along with 5 additional filter bags (FP100). 
To change the filter bag: 
Simply open the filter bag holder and pull out the grey lever at the back of the stick vacuum.

 

Remove the full filter bag and dispose (no need to release the dust particles everywhere!)

 

Insert the new filter bag and secure into place.

 

Place back into the holder and close the filter door.

 
How do you charge a stick vacuum?
Cordless stick vacuums are powered by a rechargeable battery that can be typically charged via a docking station or plugged directly to the vacuum cleaner. Most cordless vacuum cleaners (depending on the mode) will have an average runtime of 20-30 minutes before needing to be recharged.  
Kobold's stick vacuum is power-driven with a long-life lithium-ion battery, providing up to 80 minutes of cleaning time, depending on power level. When your battery is ready to be recharged, you can connect the charger to the appliance in an upright position, or the battery can be removed and charged directly. This means that you can charge your stick vacuum cleaner anywhere in the home, without the need for a permanent docking station. If the battery is completely empty, it will take approximately 3 hours to fully charge. The green LED lights on your Kobold shaft will indicate the battery levels. 
For longer run-time, you can opt for an additional battery so that you always have a battery ready to go in between charges. Your battery doesn't need to be fully charged every time, but it is recommended that you charge your batteries to 100% at least once a year.
Benefits of stick vacuums
Versatile & easy to use
The most obvious advantage of these vacuum cleaners is just how versatile and flexible they are to adapt to almost any environment. Compared to traditional corded vacuums, cordless stick vacuums are lightweight and smaller in size, which makes it much easier to use and move around the home. With a range of stick vacuum attachments, you can get into those nooks and crannies, as well as clean any surface, from skirting boards to cars, furniture, and mattresses! So, whether you're doing your weekly floor clean, or quickly spot cleaning a spill or pet hair before guests arrive, stick vacuums will do the job. 
Allergy-friendly
If you're looking for an allergy-friendly solution to cleaning, then the Kobold® Cordless Vacuum is the answer. Capturing up to 99.9% of allergens, this cordless stick vacuum has a German-engineered allergy vacuum filter system, making it the ideal vacuum cleaner for pet hair, dust mites, pollen, and more. The TÜV-Nord certified premium filter bags have been custom-designed for minimal contact with the collected dust, and are Sensitive Choice accredited. So allergy sufferers can breathe easy knowing that they can clean safely and comfortably! 
Minimal storage
The sleek and compact design of cordless stick vacuums make them convenient to store, anywhere around the home. As opposed to bulkier, canister or barrel vacuum cleaners, the Kobold® Cordless Vacuum has been specially designed to be placed anywhere around the home in an upright parked position. The removable battery also means no need for installing a fixed docking or charging station, therefore making it ideal for smaller home and apartments.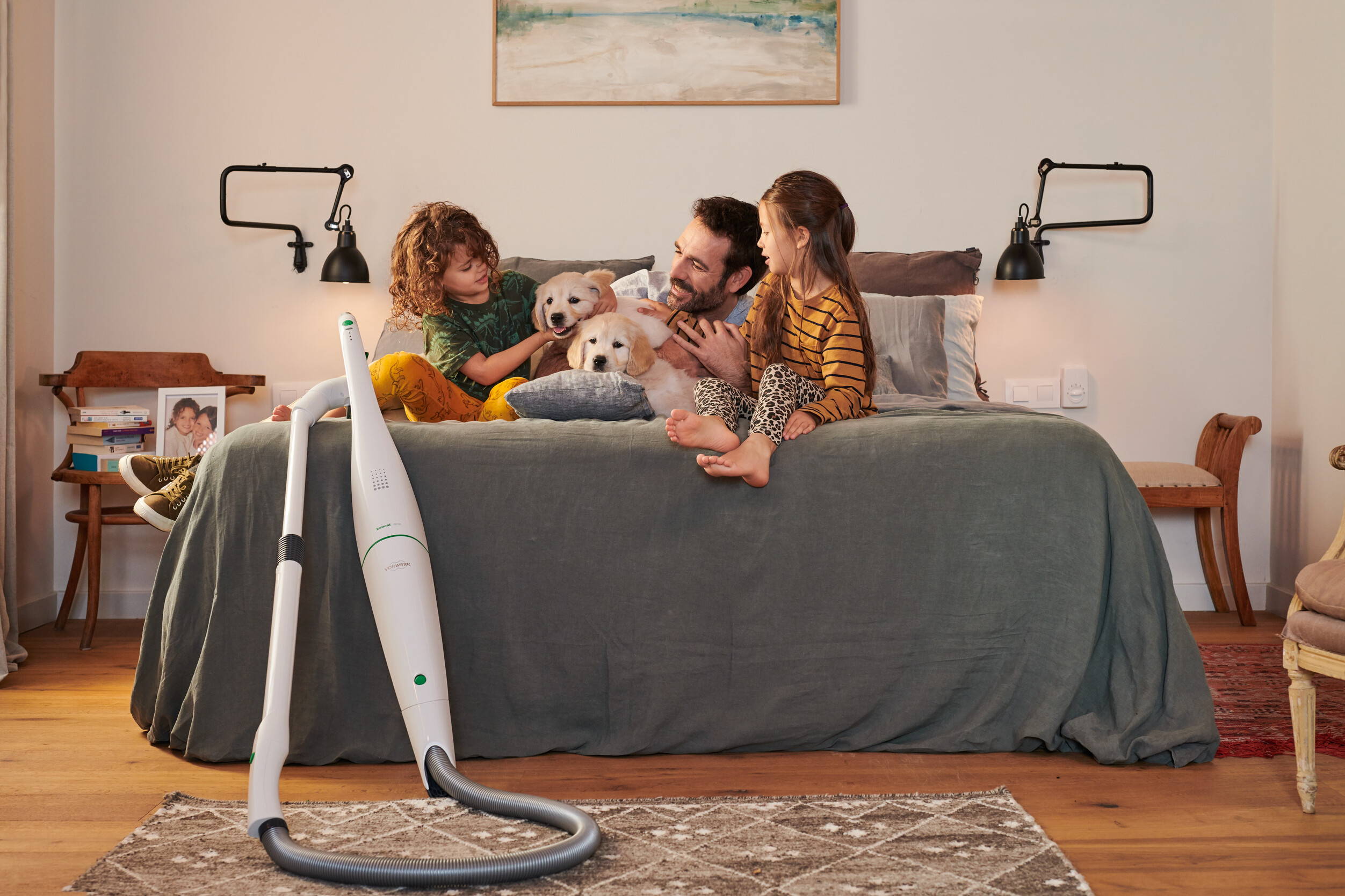 ---
Ultimately, whether you're looking for a cleaning solution for those big spring cleans, weekly cleaning sessions, or you simply need to quickly clean up those daily messes, every household can benefit from a power and convenience of the cordless stick vacuum.  
Still unsure? Feel free to contact us online, or view our many helpful vacuum cleaner guides, tutorial videos, or organise a demo today!
Want to see a Kobold in action?
---
I'm in! See the Kobold® vacuum range
---
Own a Kobold® and want to learn more?