EXPLORE THE MINI BUT MIGHTY HAND VAC
Handheld vacuum cleaner guide
Guide to the best cordless stick vacuum
Why you need a handheld vacuum cleaner
Perfect for those quick spills and smaller messes, handheld vacuums are compact, portable vacuum cleaners made for easy cleaning without the heavy lifting. Discover the benefits of portable mini vacuum cleaners and see why every household needs one!
Handheld vacuums explained
What is a handheld vacuum?
Handheld vacuum cleaners are mini but mighty cleaning machines that are handy for those lighter cleaning jobs. Hand vacuums are often known as a sidekick to your traditional vacuum cleaner, but these cordless vacuums should not be underestimated. The compact size of hand vacuums makes them extremely versatile, with the portability to take them with you practically wherever you need – from around your home to your car.
Handheld vacuums shouldn't replace your main vacuum cleaner, however, are perfect for those accidental messes, or when you're short on time and need to do a quick spruce!
What is the best handheld vacuum?
If convenience, versatility, and power is what you're after, then the best handheld vacuum cleaner is the Kobold Handheld Vacuum (VC100). This mini hand vacuum is part of the Vorwerk family, which means it's engineered with the same high quality German design that we've come to love from the makers of Thermomix®.
The ergonomic vacuum is extremely lightweight and designed to fit perfectly in your hands for comfortable cleaning. Just like the classic Kobold Cordless Stick Vacuum, the handheld vacuum is powered by a rechargeable lithium-ion battery, which provides consistent suction power for up to 20 minutes, depending on the level of power used. The hand vacuum comes with an integrated design with compact charging for upright, horizontal, or hung charging – this means you can charge it practically wherever you like!
Whether you're cleaning breadcrumbs off the kitchen counter, or pet hair from your car seats, the Kobold Mini Vac is the perfect solution, and a much-appreciated addition to any home.
Handheld vacuum tips, tricks, and advice
How do you use a handheld vacuum?
Using a handheld vacuum is easy with the mini vacuum cleaner by Kobold. Before you start using the vacuum for the first time, you must ensure that the vacuum cleaner is fully charged.
Charging the hand vacuum:
To charge your hand vacuum, you can either mount the charging unit to a wall or position the dock on a level surface. Once in position and plugged into a power supply, plug the mains cable into the designated charging socket that is located underneath the charging unit. Ensure your vacuum cleaner is switched off before every charge.
After using your hand vacuum for some time, the LED display will flash briefly, telling you that it's ready to be charged.
Using the hand vacuum:
With two powerful suction modes, and smart LED lights to indicate different settings, you can clean with ease using the Kobold Handheld Vacuum. By conducting the following simple steps, the mini vacuum cleaner can be used on many types of surfaces to clean up dust, dirt, pet hair, coarse crumbs and other allergens:
Press the green button on the front of your hand vacuum to turn on and off
Hold down the green button to activate the boost function
Release the green button to turn to normal suction mode
Emptying the filter:
Emptying the hand vacuum filter is just as easy as using it! Simply:
Press the release key on the underside of the nozzle end of the vacuum and remove the dust chamber
Hold the dust chamber with the nozzle pointing downwards
Press the release key again to remove the filter unit and empty the content into a bin
If necessary, clean the dust chamber with a damp cloth, allow to dry, and reassemble
Ensure the filter unit is aligned with the release key, and hold down on the key, pushing the filter unit into the dust chamber
See our user manual to learn more about how to use the Kobold Handheld Vacuum.
Where can you use a handheld vacuum?
The great thing about handheld vacuums is that their lightweight and compact design gives them the portability and flexibility to be used everywhere. Weighing just 640g, the Kobold Handheld Vacuum is perfect for daily cleaning of high traffic areas, right down to the nooks and crannies or harder to reach corners. Some of the most common areas a handheld vacuum can be used include:
Floor
Much like their larger counterparts, a mini hand vacuum is perfect for cleaning the floors of your home. The great thing about handheld vacuums is that they're easy to manoeuvre, and their almost weightless design means that anybody can quickly vacuum up small messes anywhere around the house.
Car
The mobility of hand vacuum cleaners makes them the ultimate car vacuum. No need to worry about cords or bulky machines getting in the way, handheld vacuums are cord-free, flexible and easy to use to reach into tight spaces like underneath and the backseats of your car.
Furniture, upholstery & tabletops
Whether you're trying to get that pesky pet hair out of your furniture, or clean the crumbs left over on your kitchen counter – a hand vac is the answer. Or if you've got unexpected guests arriving any minute and you want to do a quick once over around high traffic areas, again – that's where a hand vacuum comes in handy! These vacuums are small, yet powerful, enabling you to clean almost any type of surface.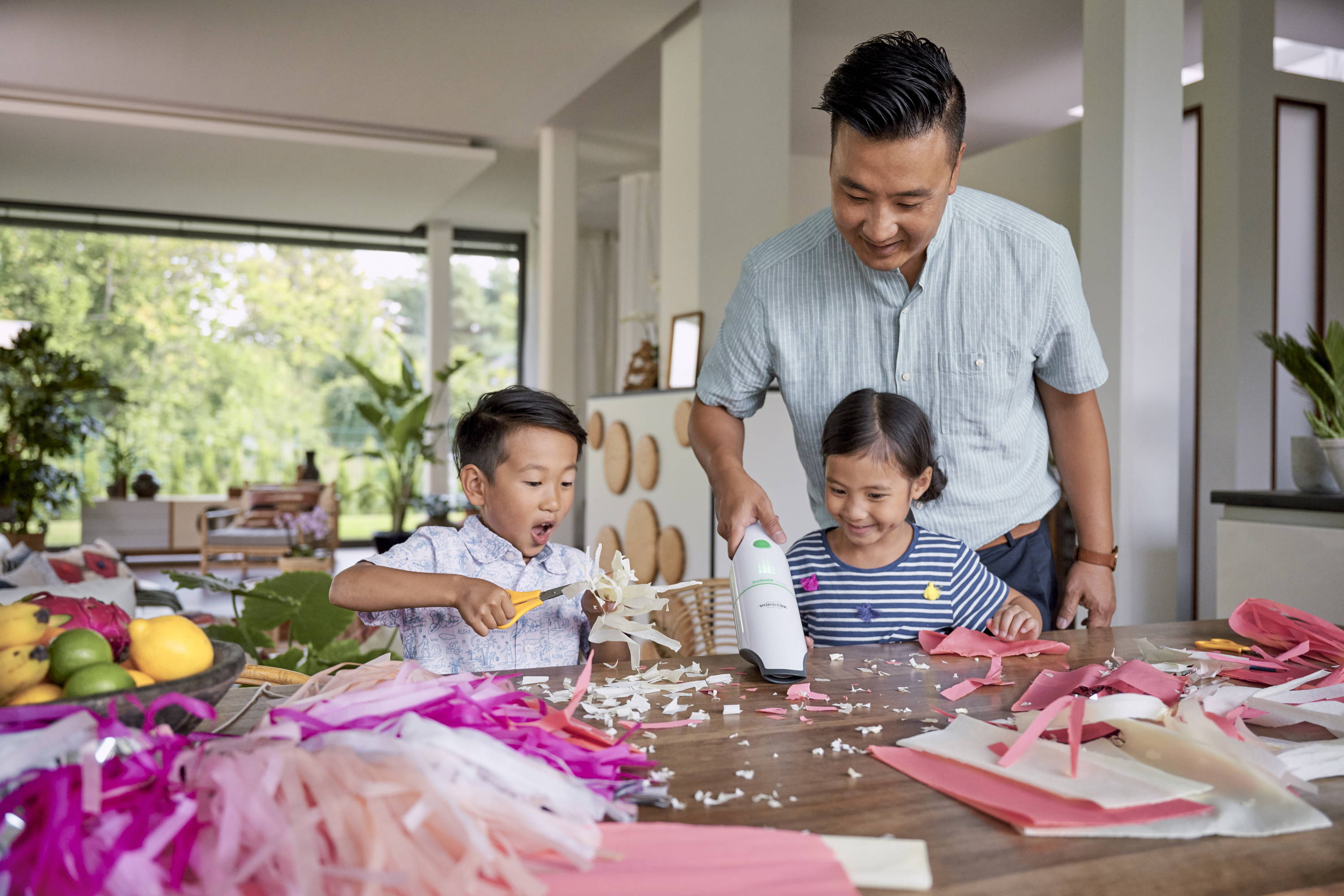 Benefits of handheld vacuums
There are just so many advantages of handheld vacuums, which is why households rely on them for easy daily cleaning. When it comes to Kobold's hand vacuum, this cleverly designed little machine has features that will simply change the way you clean forever. Discover more about why you need a handheld vacuum!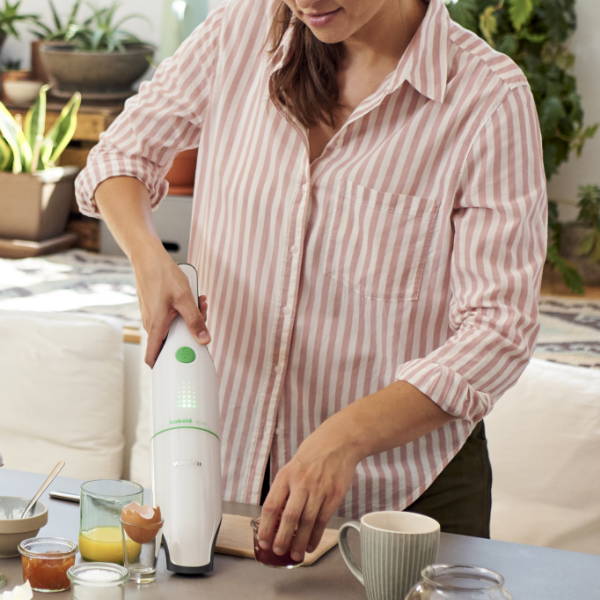 Easy to recharge & store
Due to its sleek, compact body and thoughtfully designed charging system, the Kobold Handheld Vacuum can be stored away and charged practically anywhere. This is particularly important for apartments and smaller homes. Upright, horizontal, or hung on a wall, your mini vacuum will take up minimal storage space and can be hidden out of sight.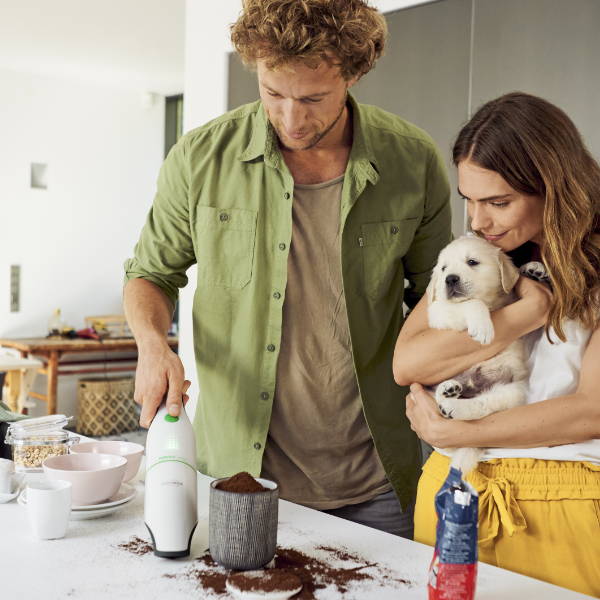 Powerful suction
If you're looking for a powerful hand vacuum, the Kobold Mini Vac is the one. Thanks to its 2 powerful suction modes and lithium-ion battery, the Kobold Handheld Vacuum provides reliable and consistent suction power. Simply press the boost function to quickly clean up everything from crumbs to coarse dirt.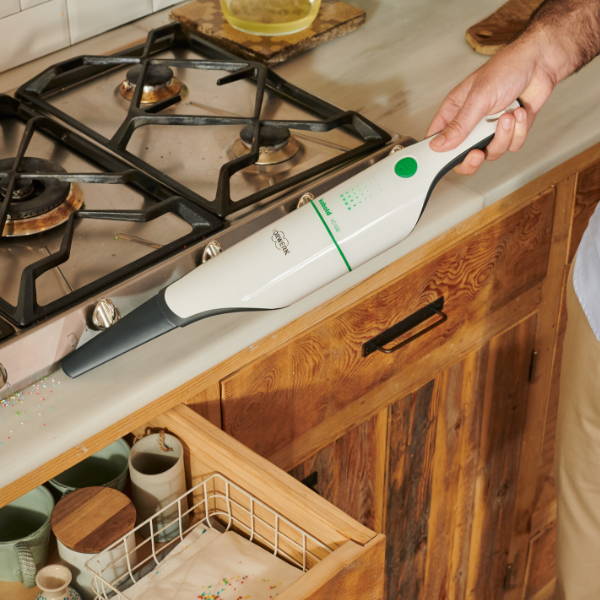 Accessories & attachments
Every great vacuum comes with a range of vacuum cleaner accessories and attachments. Reap the benefits of your Kobold Hand Vacuum by adding the Crevice Attachment Set. The nozzle allows you to expand your hand vac to get to those hard-to-reach areas, whilst the brush attachment is ideal for cleaning sensitive surfaces. You can also be sure you've got an extra filter unit on hand, so you don't go a moment without your vacuum ready and raring to go!
So, if you're looking for a convenient pet vacuum, a vacuum for your car, or simply need a small vacuum for quick daily cleaning, a handheld vacuum is the perfect solution. Not only are hand vacuum cleaners lightweight and easy to carry, but they're also uncomplicated so that everybody can use them (yes, even the kids)!
Pair your Kobold Hand Vacuum with the Kobold Cordless 2-in-1 Vacuum Mop and you've got yourself everything you need for next level cleaning. Learn more about the types of vacuum cleaners with our vacuum cleaner buying guide.
Still unsure? Feel free to contact us online, or view our many helpful tutorial videos or organise a demo today!
Want to see a Kobold in action?
---
I'm in! See the Kobold vacuum range
---
Own a Kobold and want to learn more?
Shop the Kobold vacuum cleaner collection