Kate Gibbs' Fish stew with olives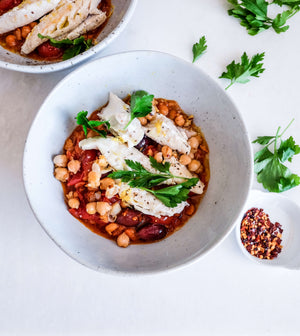 1 brown onion, peeled and cut in quarters
4 garlic cloves, peeled
½ teaspoon crushed chilli flakes (or to taste)
3 tablespoons olive oil
400g tin chickpeas, drained and rinsed
400g tin chopped tomatoes
Juice of half a freshly squeeze lemon
40g oil-cured olives, pips discarded
500g firm white fish fillets, bones removed
30g (1 cup) parsley leaves
Preparation
Place onion into mixing bowl and chop for 7 sec/speed 5. Scrape down sides of mixing bowl with spatula.
Add olive oil and sauté at 10-12 min/120°C/, or until onions are translucent and soft.
Add garlic, chilli flakes and chickpeas and sauté 7 min/100°C//. Season with sea salt and freshly ground black pepper.
Add tomatoes, lemon juice and olives, and cook at 8 min/100°C//speed 0.5.
Place Varoma

® 

into position.Season fish fillets with salt and freshly ground black pepper, then place fish into Varoma

®

. 
Secure Varoma

®

lid and steam for 6 min/Varoma

/

speed 3 or until fish is cooked through.
To serve, place the stew in a serving dish and gently break the fish into large pieces with a large spoon and place on top. Drizzle with extra olive oil and scatter with parsley leaves.
Tips & Tricks
This recipe has been shared by Kate Gibbs and has not been tested by a member of the Thermomix® Recipe Development team.