Sous-vide fish with lemon and herbs (L'Atelier Gourmet Food)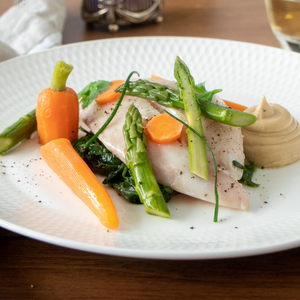 Difficulty

Easy

Active time

15 mintues

Total time

1 hour 5 minutes

Servings

4 portions
4 skinless snapper fillets or 4 fresh skinless, boneless salmon fillets
Salt, to season
Ground black pepper, to season
4 sprigs fresh parsley, plus extra to garnish
4 sprigs fresh dill, plus extra to garnish
4 slices lemon
2 tbsp extra virgin olive oil
1800 g water
Fresh parsley leaves, for garnish
Fresh chives, for garnish
Per 1 portion
Calories: 301.9 kJ / 72.2 kcal
Protein: 1.6 g
Carbohydrates: 1.3 g
Fat: 6.8 g
Saturated Fat: 1.1 g
Fibre: 0.3 g
Sodium: 7.6 g
Preparation
Pat fish fillets dry with paper towel. Season with salt and pepper, then top each fillet with 1 sprig parsley, 1 sprig dill and 1 slice of lemon. Place 2 fillets, side by side, into a sous vide bag (18 cm x 16.5 cm - see Tips) and add 1 ta

blespoon of the oil. Seal using a vacuum sealer as per manufacturer's instructions (see Tips). Repeat with another sous vide bag and remaining fillets, parsley, dill,

oil

and lemon slices.

 

Insert blade cover.

Place water into mixing bowl and start Ket

tle/

50°C.

 

Place sealed bags with fillets into mixing bowl, ensuring water covers bags and there is space between them for water to circulate. Start

Sous-vide

45 min/50°C

.

 

Carefully remove bags usin

g tongs. Remove from bags. Garnish with parsley and dill.  Serve with seasonal vegetables and sauce.
TIP
If you do not have a vacuum sealer, use the water displacement method: Fill a large container or bowl with water. Place 2 portions, side by side, into a snap lock bag and seal, leaving a gap of approx. 3 cm still open. Slowly submerge bag into the water (pressure from the water will force the air out), sealing bag closed just before it is completely submerged. We recommend using high quality snap lock bags. Look for bags made without BPA (Bisphenol A), which are widely available from major retailers. Polythene bags are not suitable for cooking food.
Tips & Tricks
Useful items:
Paper towel, sous-vide bag, vacuum sealer, thermal serving bowl or other large bowl
Thermomix® parts:
Measuring cup, simmering basket, spatula
This recipe was contributed by chefs Arnauld Pellegrino and Clement Remond from L'Atelier Gourmet Food and Decadent Private Dining. Discover more about the chefs and French recipes on our Bastille Day blog.