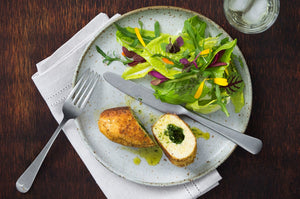 Difficulty

Easy

Active time

25 minutes

Total time

40 minutes

Servings

6 portions
Crumb coating
100 g raw almonds
1 tsp dried oregano
1 tsp onion powder or flakes (see Tips)
½ tsp sweet paprika
¼ tsp salt
1 pinch ground black pepper
Herb and garlic butter
100 g Parmesan cheese, cut into pieces (3 cm)
100 g salted butter, cold and cut into cubes (2-3 cm)
2-3 garlic cloves
10 g fresh flat-leaf parsley, leaves only (see Tips)
10 g fresh basil, leaves only (see Tips)
1 sprig fresh thyme, leaves only
Chicken Kievs
500 g chicken breast, cut into cubes (approx. 3 cm)
1 egg
1 tsp salt
2 tbsp oil, for frying
Preparation
Crumb coating 

Place almonds into mixing bowl and mill 

5 sec/speed 9

.

 

Add oregano, onion powder or flakes, paprika, salt and pepper and combine 

5 sec/

/speed 3

. Transfer into a large shallow bowl and set aside. Do not rinse mixing bowl.
Herb and garlic butter 

Place Parmesan into mixing bowl and grate 

10 sec/speed 9

. Transfer into a separate bowl and set aside.

 

Place butter, garlic, parsley, basil and thyme into mixing bowl and blend 

40 sec/speed 5

. Transfer into a separate bowl and set aside. Do not rinse mixing bowl. 

 
Chicken Kiev's 

Place chicken, egg, salt, reserved Parmesan cheese and 20 g of the reserved crumb coating into mixing bowl and mince 

40 sec/speed 9

, until smooth.

 


Preheat oven to 180°C. Line a baking tray (20 x 30 cm) with baking paper and set aside.

 


Using damp hands, divide chicken mixture into 6 portions (approx. 100 g each). Flatten each portion to the size of your palm (approx. 1 cm thickness), then place approx. 1 tbsp reserved herb butter into the centre and form chicken mixture around the butter to enclose completely. Ensure there are no thin spots or holes. 

 


Roll chicken Kiev's in reserved crumb coating and set aside. Once all chicken portions have had 1 crumb coat, repeat process to coat a second time.

 


Place a frying pan over medium-high heat and add oil. Working in batches, fry Kiev's for 2-3 minutes, turning frequently until just golden brown, taking care not to overcook. Transfer pan-fried Kiev's onto prepared baking tray and bake for 10 minutes (180°C) or until cooked through. Rest for 5 minutes before serving with low carb sides of choice.

 
Tips & Tricks
Be sure to add the parsley and basil leaves in handfuls so the scales can register the weight accurately.

You can make 4 larger portions, if desired. Cooking times will vary and be mindful to adjust the nutritional content accordingly.

After completing crumb coating, chicken Kievs can be frozen for up to 1 month and can be cooked from frozen (adjust cooking times accordingly).

LCHF stands for 'low carb high fat'. This recipe was developed by Skinnymixers (www.skinnymixers.com.au).