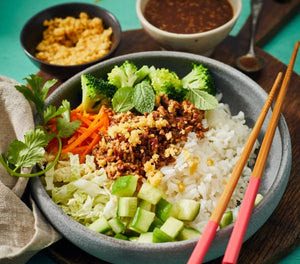 Difficulty

Easy

Active time

30 minutes

Total time

30 minutes

Servings

4 portions
50 g roasted salted peanuts
20 g fresh ginger, peeled and cut into thin slices (2 mm)
100 g hoisin sauce
1300 g water
200 g jasmine rice
1 ½ tsp salt, plus extra to season
200 g broccoli, broken into small florets
olive oil, for frying
500 g pork mince
1 - 2 tsp sambal oelek
¼ Chinese cabbage (wombok) (approx. 100 g), cut into thin strips (5 mm)
1 carrot (approx 150 g), cut into julienne slices (2 mm)
cucumber (approx. 200 g), cut into cubes (1 cm)
4 sprigs fresh coriander, leaves only, finely chopped
4 sprigs fresh mint, leaves only, finely chopped
Preparation
Place peanuts and ginger into mixing bowl and chop

 

2 sec/speed 8. Transfer into a small bowl and set aside.
Place a bowl onto mixing bowl lid and weigh hoisin sauce and 100 g of the water into it. Add 2 teaspoons of the peanut-ginger mixture, stir well to combine and set aside.
Place simmering basket onto mixing bowl lid and weigh rice into it. Rinse rice until water runs clear. Place water and 1 teaspoon of the salt into mixing bowl, then insert simmering basket with rice. Place Varoma dish into position, weigh broccoli into it and season with salt. Secure Varoma lid and steam

 

15 min/Varoma/speed 2

 

(see Tips).
Place a non-stick frying pan over medium heat and add oil. Add pork mince, sambal oelek and remaining ½ teaspoon salt and cook, stirring occasionally, for 10 minutes. Add 1 tablespoon of the reserved hoisin mixture and cook, stirring occasionally, for a further 5 minutes or until golden. Transfer into a thermal serving bowl or other large bowl and cover to keep warm.
Set Varoma aside. Remove simmering basket with aid of spatula and divide cooked rice and broccoli between 4 serving bowls. Add cabbage, carrot, cucumber and fried mince, then garnish with coriander, mint and remaining ginger-peanut mixture. Serve with reserved hoisin sauce.
Tips & Tricks
To save time, you can fry the pork mince while the rice and broccoli are steaming.