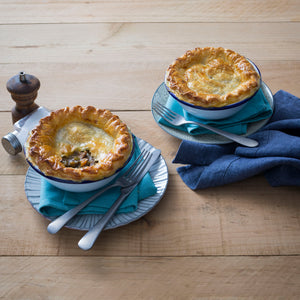 Difficulty

Easy

Active time

15 mintues

Total time

2 hours 15 minutes

Servings

6 portions
1 brown onion, cut into quarters
2 garlic cloves
2 carrots, cut into pieces
2 celery stalks, cut into pieces
1 sprig fresh sage, leaves only
1 sprig fresh thyme, leaves only
40 g unsalted butter
500 g stewing beef (gravy beef or chuck steak), cut into pieces (3 cm)
3 tbsp cornflour
6 - 10 button mushrooms, cut into quarters
100 g bacon, cut into pieces (2 cm) (optional)
200 g Guinness®
1 tbsp fish sauce (optional)
salt, to taste
ground black pepper, to taste
3 - 4 sheets puff pastry (see Tips)
1 egg, lightly beaten
Preparation
Place onion, garlic, carrots, celery, sage and thyme into mixing bowl and chop

 

3 sec/speed 5.
Add butter and sauté

 

3 min/Varoma/speed .
Add beef, cornflour, mushrooms and bacon (optional) and sauté

 

5 min/Varoma//speed .
Add Guinness®, fish sauce (optional), salt and pepper and cook

 

60 min/80°C//speed .
Stir beef with aid of spatula and cook

 

25-35 min/80°C//speed

 

or until beef is tender. Set aside to cool (approx. 15 minutes).
Preheat oven to 200°C. Divide meat mixture between 6 individual pie dishes (14 cm - see Tips). Cut pastry sheets into halves. Place a pastry sheet over each pie tin to cover filling, then trim edges. Seal pies by pressing pastry down around edges of pie tins. Cut 2 small slits in the top of each pie and brush pastry with beaten egg. Bake for 15-20 minutes (200°C) or until pastry is puffed and golden. Serve warm.
Tips & Tricks
Please refer to Cookidoo® to make your own puff pastry.
You can make the pie filling in advance and store it in the refrigerator for up to 3 days or freeze for up to 1 month. Simply thaw before using and proceed as per recipe.
Depending on the shape and capacity of your pie dishes, you may make between 6-8 individual pies.
To make one large pie, place filling into a large pie dish (24 cm), cover with 1-2 sheets of puff pastry and proceed as per recipe.
Serve with a salad or vegetables of choice.