George Calombaris's Buttery scrambled eggs and spring asparagus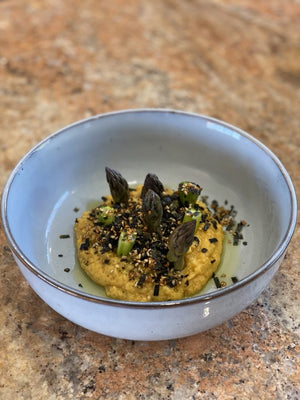 100 g unsalted butter
25 g milk powder
4 eggs
4 asparagus spears, cleaned and cut into 2 cm lengths
2 tbsp seaweed and sesame seed mix
Sea salt, to taste
Extra virgin olive oil, to drizzle
Preparation
1. Place 100 grams of diced butter and 25 grams of milk powder into mixing bowl. Cook 10 min/120°C/ speed 1. 
2. Scrape down sides of bowl with spatula and then cook a further 10 min/120°C/ speed 1. 
3. Remove lid and allow to cool for 5 minutes. Then add 4 eggs into mixing bowl and blend 5 sec/speed 7. 
4. Add a pinch of salt and then cook 10 min/80°C/ speed 1. 
5. Remove MC and place Varoma dish into position. Add asparagus and place lid on top. Cook 10 min/120°C/ speed 2. 
6. Remove Varoma and set aside. Place MC into position and blend 10 sec/speed 10. 
7. To plate up, place eggs on plate, then asparagus standing upright, then sprinkle with sesame and seaweed mix, drizzle with extra virgin olive oil, season to taste and enjoy.