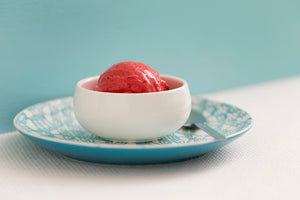 Difficulty

Easy

Active time

5 minutes

Total time

5 minutes

Servings

8 portions
80 g raw sugar
600-650 g seasonal fruit (e.g. blueberries, peaches, mangos), frozen, cut into pieces (3-4 cm) as needed
1 egg white (see Tips)
Preparation
Place raw sugar into mixing bowl and mill 10 sec/speed 9.
Add seasonal fruit and chop 40 sec/speed 10, with aid of spatula. Scrape down sides and bottom of the mixing bowl with spatula to loosen mixture. Fruit should have a creamy consistency. If necessary, chop for an additional 
10-20 sec/speed 10.
Insert butterfly whisk. Add egg white and mix 1 min/speed 4, or to a soft and smooth consistency. Remove butterfly whisk.
Serve immediately or place into the freezer in a freezable container until ready to serve.
Tips & Tricks
Depending on your choice and size of fruit, chopping time may vary.
Recipe variation: Egg free fruity dream: if you don't want to use raw egg in your sorbet, omit the egg white and add 70 g natural yoghurt or thick coconut cream in step 3. Proceed as per recipe.