French chicken liver pâté (L'Atelier Gourmet Food)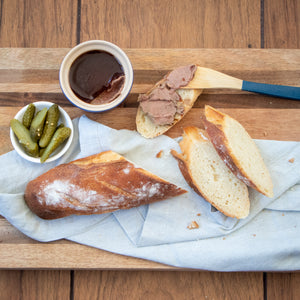 Difficulty

Easy

Active time

15 minutes

Total time

3 hours 45 minutes

Servings

10 portions
Chicken liver mousse
80 g onion (approx. ½ an onion)
1 garlic clove
30 g unsalted butter, cut into pieces
250 g chicken livers, trimmed
60 g Port or 60 g Madeira wine
2 sprigs fresh thyme, leaves only
1 sprig fresh rosemary, leaves only
1-2 pinches sea salt
1 pinch ground black pepper
120 g unsalted butter
Port jelly
1 gold strength gelatine leaf
Ice cold water, for soaking
100 g Port or 100 g Madeira wine
Bread of choice
Cornichons, to serve
Per 1 portion
Calories: 701.2 kJ / 167.6 kcal
Protein: 4.7 g
Carbohydrates: 3.3 g
Fat: 13.4 g
Saturated Fat: 8.1 g
Fibre: 0.2 g
Sodium: 39.0 g
Preparation
Chicken liver mousse
Place 30 g of the butter and sauté

3 min/120°C/speed 1

.

 

Add chicken livers, port, thyme, rosemary, salt and pepper, then simmer 6 min/80°C/

reverse

/speed 1.5, without the measuring cup.

 

Add the remaining 120 g of butter and blend

20 sec/speed 10

. Pass pâté mixture through a fine-mesh sieve into a bowl.

 

Transfer pâté into individual ramekins and cover. Place in the fridge to chill for 2 - 3 hours. Clean and dry mixing bowl.

 
Port Jelly
Once pâté has set, place gelatine leaf in a bowl, cover with water until soft and pliable (approx. 5 minutes).

 

Place Port into mixing bowl and cook

2 min 30 sec/100°C/speed 1

, placing simmering basket instead of measuring cup onto mixing bowl lid.

 

Remove gelatine from water and squeeze gently to remove excess water. Add gelatine to mixing bowl and combine

10 sec/speed 1

or until gelatine is disosolved completely. Allow mixture to cool (approx. 30 mins).

 

Gently pour cooled jelly over pâté and return to the fridge until jelly has set (approx. 30 minutes). Serving with Bread and cornichons.
Tips & Tricks
Useful items:
Fine-mesh sieve, ramekin (6cm), bowl
Thermomix® parts:
Spatula, measuring cup, simmering basket
This recipe was contributed by chefs Arnauld Pellegrino and Clement Remond from L'Atelier Gourmet Food and Decadent Private Dining. Discover more about the chefs and French recipes on our Bastille Day blog.