Dairy and grain free wraps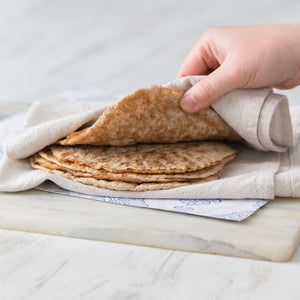 Difficulty

Easy

Active time

20 minutes

Total time

45 minutes

Servings

8 portions
1 garlic clove
70 g coconut flour
20 g psyllium husks
¼ tsp gluten free baking powder
¼ tsp salt
2 eggs
300 g warm water
40 g extra virgin olive oil
Preparation
Place garlic into mixing bowl and chop 

3 sec/speed 7

.

 

Add all remaining ingredients and mix 

10 sec/speed 5

. Scrape down sides of mixing bowl with spatula and knead 

Dough 

/1 min

. Set aside for 5 minutes in mixing bowl. Transfer dough onto a piece of baking paper and divide into 8 pieces (approx. 65 g each). Place each ball between 2 sheets of baking paper and roll each wrap to a 5 mm thickness. Leave the wraps on the sheet 

of baking paper.

 

Place a medium, heavy-based frying pan over medium-high heat. Flip the wrap into the pan, paper side up, then peel the paper away. Dry fry for approx. 2 minutes (or until wrap bubbles and starts to brown). Turn wrap over and fry 1-2 mi

nutes. Transfer to a thermal serving bowl or large plate and cover to keep warm. Repeat with remaining wraps. Serve warm or allow to cool before serving.

 
TIPS 
Wraps can be rolled and kept between sheets of baking paper in the refrigerator and dry-fried the

 next day. Remove the wraps from the refrigerator and bring them to room temperature before 

dry-frying

.

 

Cooked wraps can be stored in a sealable storage container in the refrigerator for 2-3 days and reheated in a warm frying pan. Wraps can also be 

stored in the freezer for 4 weeks, thaw before 

dry-frying

 as per recipe.