Louise Keats' Cashew basil spelt pasta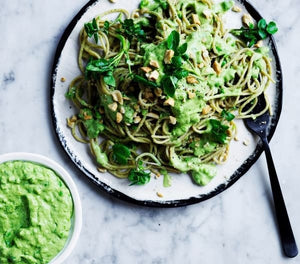 Difficulty

Easy

Active time

10 minutes

Total time

15 minutes

Servings

4 portions
300 - 400 g dried spelt pasta (see Tips)
120 g frozen green peas
boiling water
150 g cashews, dry roasted or activated
1 lemon zest only, no white pith
30 g Parmesan cheese, cut into pieces (3 cm), plus extra to serve (optional - see Tips)
1 - 2 avocados (approx. 180 g), flesh only
1 - 2 lemons, juice only, to taste
50 g fresh basil, leaves only
80 g extra virgin olive oil
80 g filtered water
1 garlic clove
salt, to taste
ground black pepper, to taste
Parmesan cheese, to serve (optional)
watercress, to garnish (optional)
Preparation
Prepare pasta as per packet instructions. Drain pasta using the simmering basket, then transfer into a thermal serving bowl or other large bowl and set aside.
Place a bowl onto mixing bowl lid and weigh peas into it. Cover peas with boiling water and set aside.
Place 50 g of the cashews into the mixing bowl and chop

 

2 sec/speed 5. Transfer cashews into a separate bowl and set aside.
Place remaining 100 g cashews, lemon zest and Parmesan into mixing bowl and blend

 

5 sec/speed 8, until milled.
Add avocado, lemon juice, basil, olive oil, water and garlic and blend

 

20 sec/speed 5, then scrape down sides of the mixing bowl with spatula and blend

 

20 sec/speed 9, until creamy and smooth.
Drain the peas using the simmering basket, then add drained peas and mix

 

2 sec/speed 5

 

or until peas are just crushed. Season with salt and pepper to taste.
Add sauce to the reserved pasta and combine. Sprinkle with reserved cashews and extra Parmesan (optional), then top with watercress (optional) to serve.
Tips & Tricks
When buying pasta, I try to source organic where possible to minimise my family's exposure to glyphosate (a herbicide commonly used in non-organic wheat production). There is some concern that glyphosate negatively disrupts our microbiome, along with other health consequences, so I prefer to keep it out of my kitchen. Thankfully organic pasta is now more widely available.
I also prefer to use spelt pasta rather than traditional wheat. Spelt is an ancient grain that many people find easier to digest and it has a lower gluten content too.
If you prefer, switch the spelt pasta with a gluten free option such as chickpea or black bean pasta.
For a vegan option, omit the Parmesan and replace with 1½ tablespoons of nutritional yeast flakes.
The three heroes of this dish – cashews, green peas and avocado – are all good sources of prebiotics, so each of them helps to feed the good bacteria in your gut so that they can thrive. Unfortunately, these bacteria often dwindle or even become extinct in modern diets lacking in these important prebiotic fibres.