Buttermilk and jalapeño marinade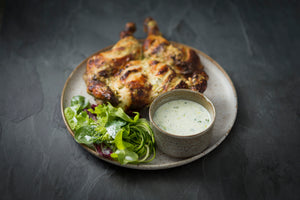 Difficulty

Easy

Active time

5 minutes

Total time

5 minutes

Servings

1 portion
3-5 jalapeño chillies, trimmed
2 garlic cloves
4 sprigs fresh coriander, leaves only
2 spring onions/shallots, trimmed and cut into thirds
500 g buttermilk
½ tsp salt
1 lime, zested (no white pith) and juiced
Preparation
Place jalapeños, garlic, coriander and spring onions/shallots into mixing bowl and chop 3 sec/speed 7.
Add buttermilk, salt, lime zest and juice, then blend 3 sec/speed 4. Use immediately as a marinade (see Tips) or transfer into a sealable container and store in refrigerator until ready to use (see Tips).
Tips & Tricks
Using buttermilk in marinades helps tenderise meat or poultry, thanks to the naturally occurring acid in the buttermilk.
Place chicken or meat into a ceramic dish, cover with marinade and turn to coat. Cover and transfer into refrigerator for a minimum of 1 hour or overnight. Scrape off excess marinade, then barbecue or grill to your preference.
Before using marinade, set aside approx. 200 g to use as a dressing on green leafy salads, or as a sauce to serve with grilled meat or chicken.
You can store this marindate in a sealable container in the regrigerator for up to 3 days.