Beurre noisette emulsion (L'Atelier Gourmet Food)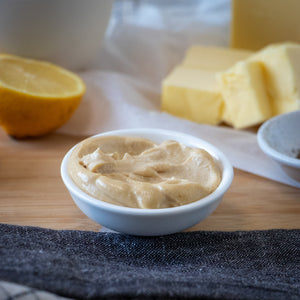 Difficulty

Easy

Active time

5 minutes

Total time

20 minutes

Servings

4 portions
250 g unsalted butter, cut into pieces
2 eggs
1000 g water
1-2 pinches sea salt
1 pinch ground black pepper
30 g freshly squeezed lemon juice
Per 1 portion
Calories: 2025.8 kJ / 484.2 kcal
Protein: 3.6 g
Protein: 3.6 g
Fat: 53.0 g
Saturated Fat: 32.9 g
Fibre: 0.0 g
Sodium: 94.5 g
Preparation
Place a heavy-based sauce

pan

over medium-high heat. Add butter and cook until is foaming, golden brown and brown specks begin to form at the bottom of the pan. Sieve into a cold bowl to stop the cooking process and set aside

to cool. Meanwhile, continue with the recipe.

 




Place eggs and water into mixing bowl and start

Egg Boiler/

Medium soft

. Carefully transfer eggs into simmering basket and run under cold water to stop the cooking

process. Rinse

mixing bowl.

 

Peel eg

gs. Place eggs and salt into mixing bowl, then chop

1 min/speed 2.

 

Mix

3 min/speed 4

, slowly pouring butter onto mixing bowl lid, letting it trickle into mixing bowl to emulsify, until the sauce is thick and shiny.

 

Add a pepper and lemon juice, th

en mix

30 sec/speed 4

. Serve as desired (see Tips).
TIP
For a fancy touch:


Place mixture into a piping bag and pipe onto serving plates and serve with Sous-vide, steamed, pan-fried fish, seafood or steak. See Cookidoo® for recipes.

 

Store at room temp for up to 2 hours.