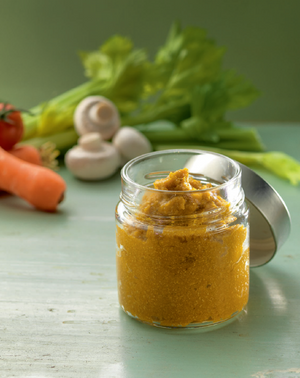 Difficulty

Easy

Total time

30 minutes
200 g celery stalks, trimmed, cut into pieces
2 carrots, cut into pieces
1 brown onion, cut into halves
1 fresh tomato, cut into halves
1 zucchini, cut into pieces
2 garlic cloves
1 dried bay leaf (optional)
1-2 sprigs fresh basil, leaves only
1-2 sprigs fresh sage, leaves only
1-2 sprigs fresh rosemary, leaves only
8 sprigs fresh flat-leaf parsley, leaves only
150 g rock salt
1 tbsp olive oil
Preparation
Place celery, carrots, brown onion, tomato, zucchini, garlic cloves, bay leaf (optional), basil, sage, rosemary and parsley into mixing bowl and chop 

10 sec/speed 6

. Scrape down sides of mixing bowl with spatula.

 




Add rock sa

lt and olive oil and cook 

20 min/120°C/speed 1

. Blend

 

1 min/speed 5-9,

 

increasing speed gradually

 

from speed 5 to speed 9

 

or until a smooth paste consistency is achieved. Transfer stock into a sealable container then place into the refrigerator to store until use.
Tips & Tricks
1 tablespoon of stock paste is roughly equivalent to 1 shop-bought stock cube.
To make vegetable stock, use 1 tablespoon per 500 g water.
You can store stock paste in a sealable container in the refrigerator for several months.
The salt in this recipe is used as a preservative. When mixed with water as described above, the stock will not taste too salty.
If you wish to decrease the salt in this recipe, we recommend you store the stock paste in the freezer.
Small quantities of sea vegetables, such as dulse, wakame or kombu can be added to the stock for extra flavour and nutrients.
VARIATION
Adapt this recipe using any leftover vegetables in your refrigerator. Weigh into the mixing bowl to ensure quantities are consistent with the recipe.