NEW & IMPROVED QUALITY

The secret behind a great pastry is to have the best tools for the job. The Pastry Brush is designed to create perfect, even, fine lines in your pastry work, from covering cakes with a glaze to creating decorative patterns on pies and pastries. The premium wooden handle gives a firm and solid feel and the natural bristles are durable and spread evenly.

Key Features
Premium wooden handle with natural bristles
Perfect for basting glaze/eggwash/melted butter/etc when cooking
Hand wash only
Reviewed by KELLY A COSTELLO H.
Verified Buyer
I don't recommend this product
Shedding even before use.
Unfortunately, not good normally things I buy from you guys are great, but I probably won't use this as it has a falling out just touching it. I don't want them in my food.
Hi Kelly, thank you for letting us know. Our team will be in touch to follow up on this with you.
Pastry Brush
Fantastic, easy to use and butter and oil give an great coverage
I don't recommend this product
Sorry not a fan
Not a fan, looses too many bristles on the food while brushing over, forever picking them off.
Hi Cheryl, thank you for your review. Our team will follow up on this with you.
Send a hint
Get the gift you love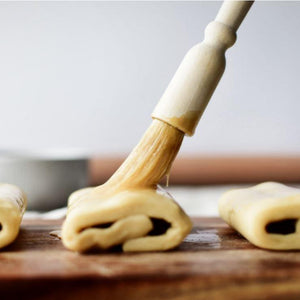 Send a hint by
Perfect for these popular recipes