Fenix Cast Iron Dutch Oven
Fenix Cast Iron Dutch Oven
$199
Fenix Cast Iron Dutch Oven
The perfect partner for your Thermomix,
the 6L
Fenix
Dutch Oven
from our Firra cast iron cookware collection 

is made to last a lifetime with a high-quality enamel coating, making it tough enough to go directly from any stovetop to sear your meats and into the oven to cook low and slow.
And like the name suggests, Fenix will give your artisanal bread the ultimate rise. Beautifully crusty and rustic on the outside. Soft airy dough on the inside.
Pair with Ambrosia Cast Iron Casserole Dish
Suitable for all cooktops (including induction)

Large 6L can roast chicken and bake perfect loaves of bread

Perfectly even heat distribution and energy-efficient heat retention

Does not require seasoning, easy to clean and maintain
Withstands temperature up to 300°C
Self-basting dots inside the lid
Signature rose gold handles
Free shipping on orders over $125
A legend in the baking
Harnessing the heavy-weight element of Fe (cast iron), Fenix Dutch Oven gives you all the ingredients you need to roast a whole chicken, slow-cook to melt-in-the-mouth perfection and bake artisan bread. Just like a true god or goddess of the kitchen.
Bake artisan bread loaves
Inspired by COVID comfort baking, we went in search of the perfect vessel to bake artisan style loaves from the comfort of our homes. Enter the Fenix Dutch Oven. The combination of heat retaining cast-iron and heavenly steam equals light, airy loaves with crispy crusts.
Fenix can handle the heat
A timeless Firra design, drawing on centuries-old cast iron cooking tech that's unrivalled for even heat distribution, the Fenix effortlessly reaches soaring-hot temperatures up to 300° and works on all heat sources (including gas, electric, induction, coal or wood-powered ovens). So there's no need to sear your meats in a skillet first and transfer to a pot.
The best way to bake bread
Making crispy, crusty, golden loaves of bread at home has never been easier. It all starts with bread baking in the Fenix Dutch oven, the perfect vessel for making artisan-style loaves. The steam that's created inside the pot miraculously transforms the dough and creates a golden, crispy crust.  
Hot tip: Preheat your Dutch Oven for 20 minutes before placing your dough into the pot to cook. This ensures that you create enough steam to get the desired result.
Explore some of our favourite Cast Iron Dutch Oven recipes
Caring for your cast iron
Your Firra Fenix Dutch Oven is designed to last. Over the years, the internal coating could develop some marks and can take on the colours of what you're cooking. This is perfectly normal and nothing of concern.
For removing extra stubborn baked-on residues 
Avoid harsh, abrasive cleaners and scrubbing pads that could damage the enamel coating. A simple three-to-one mix of water and baking soda left in your Ambrosia overnight and a rinse and wipe with a soft cloth the next day should do the trick. Then, just make sure your dish and lid are thoroughly dried before storing.
Care tips and tricks
Heat up slowly on the stove. Add oils and fats before heating up.

Avoiding going from really cold to really hot and vice versa.

Handwashing recommended with warm soapy water.

Thoroughly dry with a tea towel. Make sure it's dry before storing away in the cupboard.

You can run a little bit of oil around the rim where the exposed cast iron is for extra protection.

Use silicone or wooden utensils to reduce the risk of scratching the enamel.
Technical Specifications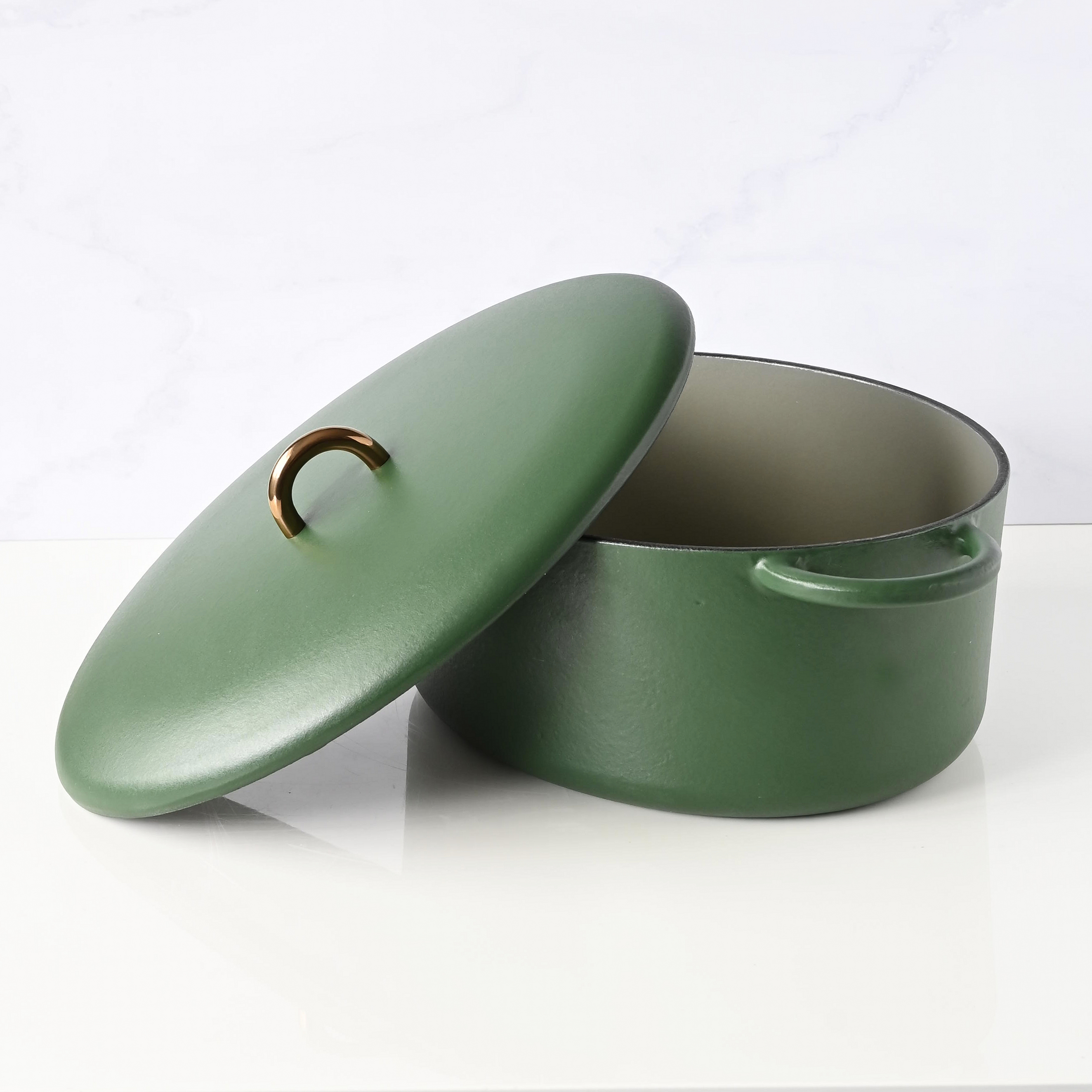 Fenix Cast Iron Dutch Oven
| | |
| --- | --- |
| Length with handles | 41cm |
| Length without handles | 32cm |
| Width | 25cm |
| Height | 14cm |
| Volume | 6L |
| Weight | 4.8kg |
Frequently Asked Questions
You can choose to pop it in your dishwasher on a short wash occasionally, but be aware that prolonged exposure to moisture and harsh dishwashing detergents can increase the risk of rusting around the bare cast iron rim. So be sure to apply a light coating of oil around the rim after thoroughly drying – especially if your casserole dish is likely to be in storage for a while before the next use.
Yes you sure can. Your Firra Cast Iron Dutch Oven works on all stovetops from gas to induction.