It's more than just a great-looking display piece for your dinner table, the 2.5L Oval Thermoserver keeps your showpiece dish at the optimum temp while you prep your sides and other courses – so there's no frantic last-minute rush. Enjoy a drink and a chat before sitting down to eat. Imagine that! The insulated stainless steel thermobowl with lid keeps food warm for up to three hours, and doubles as an ideal solution for serving salads, fresh seafood and desserts outside too.

We especially love using the Oval Thermoserver for keeping curries warm, thickening risotto, and keeping cooked pasta, rice and couscous warm while we go to work on prepping and cooking sauces and sides. It also makes a great serving bowl for tortillas, pancakes and pikelets. 
Key Features
Keep food warm or cold for up to three hours.
Keep cooked pasta and rice warm.
Keep tortillas, pancakes and pikelets warm.
Keep salad cold at a picnic.
LFGB, FDA certified food grade insulated stainless steel bowl with lid.
Pop the thermo bowl in the top drawer of your dishwasher, or wash it by hand using a soft cloth and dishwashing liquid. Avoid using harsh abrasive products on the insulated stainless steel bowl and lid. Not suitable for use in the microwave, on the stove top or in the oven.
Send a hint
Get the gift you love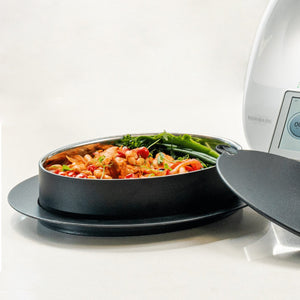 Send a hint by
Perfect for these popular recipes