Coming soon! Our brand new cookbook, Thermomix® Cooking for Diabetes. Pre-register today to be the first to hear when it's in stock in early 2024.

Diabetes is one of the biggest health concerns around the world, and it's on the rise. So, we're on a mission to empower the ~2 million people across Australia and New Zealand who are touched by diabetes, to cook more from scratch, and take charge of their health.

Whether you have diabetes, are pre-diabetic, or just want to eat for health – this book is for you. We came together with Australian Women's Weekly to create this book with over 70 tasty recipes developed in line with the nutritional guidelines of Diabetes Australia, that are triple-tested by our Recipe Team. Cooking for health doesn't have to feel boring, it can be mouthwatering and exciting – the type of food everyone will want to eat, regardless of health diagnosis.
You'll find tasty everyday recipes for breakfast, lunch and dinner. As well as an Entertaining chapter for those special occasion dishes and a selection of sweet treats in the Desserts chapter – all of which are nutritionist-approved and in line with the official guidelines from Diabetes Association Australia.
From sausage rolls and pies, to sandwiches, roast dinners, baked treats like Diabetes-friendly banana bread, drinks and desserts – you can have it all with Thermomix®.
As well as the recipes, you'll find heaps of expert info at the front of the book, plus extra features such as Meal Plans and how to create a balanced smoothie for a GI-friendly option for when you're on the run.
Together, we can create change. Choosing to eat for health is something we can all benefit from.
Key Features
Over 70 triple-tested recipes PLUS snack ideas
All recipes in line with the Diabetes Australia nutritional guidelines
Collaboration with the team at Australian Women's Weekly
Meal plans to get you started with food prep guides
Health and lifestyle tips from our health coach
Eating for Diabetes "plate" – a guide on how to balance your meals
Front-of-book information from an accredited Diabetes specialist
Diabetes is a disease that touches so many of us. In Australia, at the time of writing, one person in Australia develops Diabetes every five minutes. In New Zealand, the number of people diagnosed with Diabetes exceeds 250,000.
The recipes and tips in this book, in line with the nutritional guidelines from Diabetes Australia, are designed to help empower those touched by Diabetes with kitchen confidence and food that's great to eat. It's also designed as a preventative tool for all of us. Eating for health is something we can all choose to do. Cooking more from scratch, choosing real ingredients and managing portion-size become easy with Thermomix® on your kitchen bench, and the recipes in this book to guide you.
Together, we can make a difference.
There's so much to choose from and just by making a list, we're missing so much out. Be sure to enjoy the full list in the book, but here are a few of our faves to get your mouth watering!
Breakfast on the run:
Carrot cake overnight oats
Part of the secret to eating for health is to be prepared. And a little prep can go a long way. We love this quick and easy breakfast for just that. Prep ahead in jars so you can grab n' go in the morning, ensuring yourself and your blood sugar levels that you'll be having a balanced, healthy breakfast, wherever you are.
Summer salad:
Thai pork with green mango salad
Fresh, zingy, totally delicious and beautiful on any summer table, we love this recipe for how easy it is to create and how much of a 'wow' it brings. Ready with 15 minutes of your active time, it's bound to become a favourite.
Mid-week meals
Miso chicken noodle soup
Hearty, wonderful depth of flavour, and packed full of nutrients, it's so easy to create with Thermomix®. We can't get enough of this soup. Perfect for lunch or dinner, with just 10 minutes of your active time and ready in 30 minutes, there is so much to love.
Prawn and broccoli fried rice
Another 15-minute (active time) super meal, this dish is super more-ish. Using broccoli instead of rice is such a clever way to balance the recipe nutritionally while still bringing heaps of flavour and deliciousness to the dish.
Pulled chicken tortillas
Mmmmmm… yes please! Pulled chicken, cabbage and apple slaw, tortillas. It's become a regular lunch special in the Recipe Development kitchen.
Cauliflower dahl with soft steamed eggs
Have it for breakfast, lunch or dinner – it's your choice! This dish is amazing any time of day. Layering up your Thermomix® with your trusty Varoma steaming attachment, you'll have the whole dish ready from whoa-to-go in just 10 minutes of your time, 35 minutes for your Thermomix®.
Pork fillet with chilli and coconut relish
Those Asian flavours spring to life in this dish, which sings with ginger, garlic and chilli. It's a beautiful one too, so think of it as a mid-week dinner that also doubles as a dinner party option.
Mushroom and ricotta cannelloni
When you're balancing your macros correctly and in line with the guidelines of Diabetes Australia, you'll be amazed by what you can create and enjoy. This is comfort food at it's best.
Something a bit fancy
Pipi and squid paella
This play on Spanish paella uses the exclusive TM6 High Temperature mode as well as the Rice cooker mode, to bring all the flavour and none of the stirring! It's perfect as part of a dinner party spread or to ignite your inner chef at home.
Share plate with hummus, spiced cauliflower and shredded lamb
This is that dish you put down on the entertaining table and everyone goes 'wow', then they taste and they go 'mmmm'. It's a great prep-ahead, feed-a-crowd recipe that everyone will love.
Something sweet
When only something sweet will do, we have a beautiful selection to choose from:
Passionfruit cheesecake
Christmas cake
Little citrus puddings
Orange yoghurt cake
Grab n' go muesli slice
Chocolate mousse pots
Honey semifreddo with warm figs and walnuts
Banana bread
Tropical jelly with coconut yoghurt
Send a hint
Get the gift you love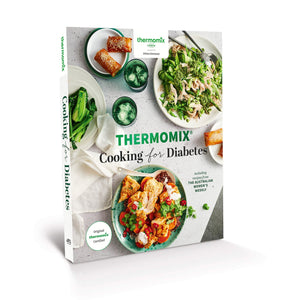 Send a hint by