Twenty years ago, Grace Mazur brought Thermomix to Australia. To celebrate this amazing milestone, we came together with ARE Media to create Thermomix: Creating something incredible, which tells the story of Thermomix - and Grace's journey - through delicious recipes that inspired cooks at the time (and still do!). We've also included personal and community stories which share so much of what is magic about Thermomix.

Showcasing recipes from Grace and Bianca Mazur (our founders), well-known chefs and passionate foodies from the Thermomix community, and our recipe development team, these recipes are the best of the best. Some are reinvented twists on Thermomix classics such as Torta Caprese (now with whipped ganache and a beautiful raspberry jelly) or our mushroom risotto (now with cracked freekeh and a fresh spring onion oil), while the majority are totally new creations showcasing the kitchen excellence which is just so simple to achieve with Thermomix. Try the Surf & turf with pink peppercorn sauce or the Chilli crab with coconut rice and sambal to unleash your inner chef and take your tastebuds to the next level.

In between meals, delight in the stories shared which document the journey of Thermomix in Australia and later in New Zealand. As you read, delve into the many memorable moments shared, the ups and downs, the challenges, opportunities and lessons learned by our entrepreneurial mother-daughter team at the helm of this incredible business. As Grace says, this is our collective story and this book is a celebration of every person who has, in their own way, supported Thermomix over the past 20 years – as a customer, Consultant, contributor and collaborator, or member of the in-house team.

The book caters to owners of TM31, TM5 and the latest TM6 model, as well as a small number of recipes which are 'exclusive to TM6' featuring the unique functionality of this latest model. As the capabilities and capacity of the models vary, each recipe indicates which models are compatible with it (TM31, TM5, TM6). Dietary symbols are also provided, giving readers easy reference tools for those following specific ways of eating.
Can't wait to try out these recipes? We have created a collection with all the products used in this cookbook. Click here to view. 
Send a hint
Get the gift you love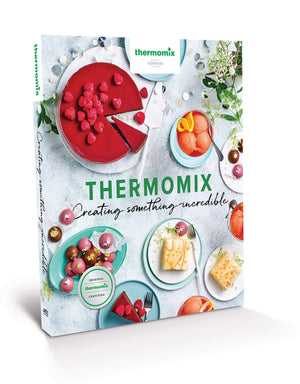 Send a hint by