Your 1.3L Vac-U-Seal helps keep your ingredients, meal prep and leftovers fresher for longer. If you need to replace your glass container, you've come to the right place. Sold separately as a spare part, this glass container is designed for convenience and durability. Ideal for replacement, it seamlessly complements your Vac-U-Seal Vacuum Sealer Container 1.3L, ensuring an airtight seal for optimal ingredient freshness. Plus, the glass containers are heat resistant up to 300°C, so you can use them in your oven!
*Please note this includes the glass container only. 
Key Features
Conveniently replace your glass container with our spare part
Designed for durability, this glass container ensures long-lasting use.
Locks in nutrients and marinates in minutes
Keep ingredients, meal prep, and leftovers fresher for longer with Vac-U-Seal.
The Vac-U-Seal glass vacuum sealer container is dishwasher safe for super-easy cleaning. The lid and food tray however are not suitable for the dishwasher. We recommend handwashing the lid and tray with warm soapy water and a soft cloth to keep them looking their best. Avoid harsh, high-alkaline detergents, abrasive cleaners and scrubbing pads.
Send a hint
Get the gift you love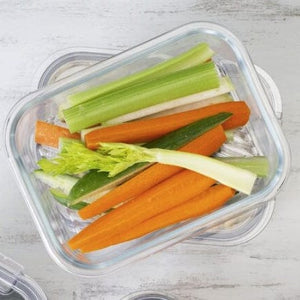 Send a hint by
Perfect for these popular recipes