Your Vac-U-Seal Insert, is specially designed for your 1.3L Vac-U-Seal Container which helps lock in the freshness of your ingredients, meal preps, and leftovers. Should the need arise to replace your insert tray, you're in the perfect spot. Available as a standalone replacement component, this insert tray will have you using your Vac-U-Seal system so you can enjoy fresh, healthy, nourishing food all through the week, even on your busiest weeknights.
*Please note this only includes the 1.3L insert
Key Features
Perfect replacement for your Vac-U-Seal
Ideal for seamlessly complementing your Vac-U-Seal Vacuum Sealer Container 1.3L
Sold separately as a spare part
The Vac-U-Seal glass vacuum sealer container is dishwasher safe for super-easy cleaning. The lid and food tray however are not suitable for the dishwasher. We recommend handwashing the lid and tray with warm soapy water and a soft cloth to keep them looking their best. Avoid harsh, high-alkaline detergents, abrasive cleaners and scrubbing pads.
Send a hint
Get the gift you love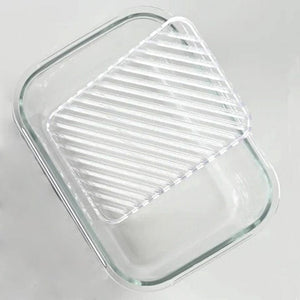 Send a hint by
Perfect for these popular recipes