Piping bags are an invaluable tool for piping buttercream or icing onto cakes, desserts and biscuits, filling doughnuts or creating pastry shapes.

These Thermomix branded professional-grade piping bags are a must-have, especially for the baking enthusiast.  The bags feature a non-slip textured exterior for perfect grip and excellent control. 

This set contains 1 x 45cm piping bag, 1 x 51cm piping bag and a coupler and six different-sized nozzles.  The coupler allows you to switch nozzles mid-way through piping without emptying the piping bag, giving you plenty of options for adding the finishing touches to your baked goods and treats.
Key Features
Developed and tested by the Thermomix Recipe Development team
non-slip textured grip
1 x 45cm piping bag and a 1 x 51cm piping bag
Six different-sized nozzles
To download the Piping Bag instructions click here
Piping bag set
Loving this piping bag set that I ordered ❤️ Very easy to clean, sturdy, user friendly, just lovvvvvveeee it! Highly recommend ❤️
Love it
Great piping bag set easy to use and clean.
Send a hint
Get the gift you love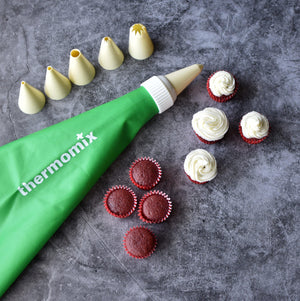 Send a hint by
Perfect for these popular recipes