No more slips, splashes or splatters, our reusable chefs squeeze bottle puts you in complete control to drizzle just the right amount of oil, balsamic, pesto, salad or dessert dressing for restaurant-quality finishes to all your dishes. Easy to grip, without straining your hands and wrists, they're also perfect for precise decorating, writing and drawing with royal icing, cacao fudge sauce, salted caramel or fruit coulis.

Not too thin and flimsy, but just right for squeezing every drop out, yet sturdy for a long life as reliable, reusable squeeze bottles for all your homemade sauces and condiments. Both the long nozzle and bottle are made of soft but durable high-quality BPA-free food safe plastic, and the wide mouth makes refilling and handwashing with a bottle brush super easy.

We made sure they're clear too, so you can easily distinguish between your different ingredients, homemade sauces and icing colours, and we added 'ml' markings so you can see exactly how much you've got left in your squeeze sauce bottles. Ideal for keeping barbecue guests happy with ample ketchup, BBQ sauce, hot sauce, mayo and mustard.
You'll also love the way the lid easily flips and stays open while you squeeze, and how easy-peasy it is to get precise spoon or ml measures for Thermomix recipes.
We made them available in a 2 piece set of empty reusable squeeze bottles, with three sizes to choose from – a small 250ml squeeze bottle, a medium 360ml that's ideal for barbecue sauce, and a large chefs squeeze bottle holding up to 450ml.
Key Features
Add restaurant-quality finishes to your dishes
Chefs squeeze bottle with long nozzle for precise decorating
Total squeeze control for drizzling or measuring amounts for recipes
Quality, durable, reusable squeeze bottles are BPA free and food safe
Easy to grip, without straining your hands and wrists
Leakproof snap-shut cap and silicone washer in the lid
Clear bottle with 'ml' markings so contents are easy to see
Wide mouth makes refilling and handwashing super easy
Available in three sizes and packs of two empty squeeze bottles
Small 250ml squeeze bottle to 450ml large chefs squeeze bottle
Large chefs squeeze bottle – 450ml
Medium squeeze sauce bottle – 360ml
Small squeeze bottle – 250ml
Large:
Height - 25cm
Base diameter - 7cm
Opening diameter - 3cm
Medium:
Height - 21cm
Base diameter - 7cm
Opening diameter - 3cm
Small:
Height - 17cm
Base diameter - 6cm
Opening diameter - 3cm
To keep your reusable squeeze bottles looking and squeezing their best, we recommend handwashing thoroughly in warm water, with a mild detergent and a bottle brush, and leaving to air dry on a tea towel before first use and after every use.
A great addition
These are a great addition to anyone's kitchen and have a easy flow top
Sauce bottles
Cute. Will be useful in our van.
I don't recommend this product
Squeeze Bottles (set of 2)
Disappointed as one of the 2 bottles had a faulty lid. It will not seal correctly. What can I do about it?
Hi Lyn, we're sorry to hear this. Someone from our team will be in touch to follow up on this with you.
Squeeze bottles
Very handy for keeping left overs or pressising decorations. On some the seal is not staying on.
Send a hint
Get the gift you love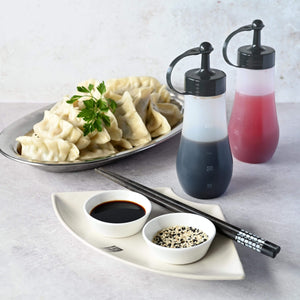 Send a hint by
Perfect for these popular recipes