You're going to love the clever twist in the Dreamfarm Spadle. Well actually, it's two twists that transform this 2-in-1 ladle spoon from a cooking spoon for shallow pans into a kitchen ladle that's ideal for serving up from your Thermomix Mixing Bowl.

Twisting from upright ladle to flat spoon instantly solves the design flaw of the regular cooking ladle that never comfortably fits in your kitchen drawer. And like all the kitchen magic that comes fresh out of Dreamfarm, the Spadle is the dream alternative to the ladle or serving spoon that gets everything out of the bottom of the pot.

The flat, flexible and heat-resistant silicone ladle spoon works like a spatula to lift and a squeegee to gently scrape every scrap of your homemade family favourites out of every corner of the pot, pan, or mixing bowl. So, the Spadle is safe for all your non-stick pans too.

The upright angle of the dangle on the Dreamfarm Spadle ladle makes lifting soups and pancake batter from the bottom of your Mixing Bowl easier for every Thermomix cook, and especially those living with disabilities.

The head of the ladle spoon is big enough to scoop half a cup in one swoop. And with easy-to-read 100ml, ¼ cup, teaspoon and tablespoon measures, there's no need to break your cooking flow to go get your measuring cups and spoons.
You won't be needing a spoon rest either. The little bend Dreamfarm built in the neck of the Spadle lifts and holds the spoon off your benchtops to prevent drips, saving you more time on the post-cook clean and wash up.
Great for apartment living, where kitchen storage is scarce. And perfect for camping. Pack the Dreamfarm Spadle and leave the kitchen ladle, spatula, serving spoon, gravy spoon and measuring cups and spoons at home.
We love how every little detail that goes into Dreamfarm's inventive designs – like the Spadle – exists to solve a problem in useful ways others have never dreamed of, yet makes perfect sense. Every seed of an idea that's planted in their workshop in Brisbane grows into something original that looks beautiful, is made to the highest quality, works better than anything else in the utensil universe, and does something incredible you've never seen before.
We're totally stoked to be able to bring you the Dreamfarm Spadle and can't wait to see what the dreamers of this magic silicone ladle spoon will dream up next.
Key Features
2-in-1 Spadle transforms from a spoon into a ladle
Perfectly sized silicone spoon for cooking in shallow pans
Perfectly angled ladle for serving straight out of your Thermomix
Flat, flexible tip, like a spatula, lifts every drop out
A ladle that twists flat to fit in your kitchen drawer
A cooking spoon that doesn't need a spoon rest – it's built in
Deep ½ cup scoop with 100 ml, ¼ cup, tbsp and tsp measures
Made of quality nylon and silicone
Heat resistant up to 200°C/392°F
Silicone tip makes it safe and gentle on non-stick cookware
Dishwasher safe for easy cleaning
Great for apartment living and camping
Length: 8cm
Width: 33.5cm
Weight: 0.13kg
Material: Nylon, silicone
The dreamers and makers of the Dreamfarm Spadle have added yet another clever twist to make it easy to clean your ladle spoon, and all its joints, in the dishwasher. Just a quick half twist of the Spadle's joints opens them nice and wide for your dishwasher to do its job and give them a thorough clean.
90%
of reviewers would recommend this product to a friend
Reviewed by Morella Van H.
Verified Buyer
I recommend this product
Highly Recommend
Love this spoon, so versatile, easy to use & doesn't fall out of the pan or pot like my old ladle
Thank you, Lenore, for your feedback on the Spadle. We're delighted to hear that you highly recommend it. The versatility and ease of use make it a beloved spoon in your kitchen. We're glad to know that it doesn't fall out of the pan or pot like your old ladle, providing a more convenient cooking experience. We appreciate your recommendation and are delighted to have provided you with a tool that meets your needs. If you have any further questions or need any assistance, please don't hesitate to reach out to our customer support team. Thank you for choosing our product and for your support. Happy cooking with your Spadle!
Send a hint
Get the gift you love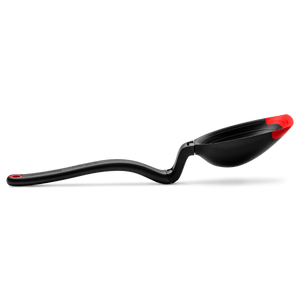 Send a hint by
Perfect for these popular recipes