Two mats are better than one!

This bundle contains one standard-sized Thermomix® Baking Mat (60 cm wide x 40 cm high) and one Thermomix® Oven Mat (40 cm wide x 30 cm high). These industrial quality silicone mats turn any pan or tray into a non-stick surface.

Use the non-slip, standard-sized Mat for proving your bread or pizza dough and also as a work surface for food preparation.

The Oven Mat is handy for lining your oven tray. Use it to bake biscuits, scrolls and rolls on; crisping up patties and hash browns with; and so much more.
Key Features
Zero waste baking foil and baking paper alternative
Reusable non-stick baking tray liner to protect your bakeware
Specially designed mesh browns food more evenly
Less mess, less waste and easy to clean up
Withstands temps from -40°C up to 240°C
Made from premium quality, food-safe silicone
Thermomix Oven ThermoMat
Length 40cm x Width 30cm
Thermomix ThermoMat
Length 60cm x Width 40cm
Just give your ThermoMat Duo Pack a wipe down with a soft cloth or sponge and warm soapy water. Avoid using knives, cutting instruments, abrasive scrapers or brushes and replace your ThermoMat Duo Pack if they have cuts in them. Store flat, not folded. Not suitable for use in dishwashers, gas ovens, under an open grill, directly on the bottom of the oven or on or under a direct heat source.
Loving my Thermomix mats
Perfect to use in my busy kitchen oven or freezer without pulling out the baking paper all the time.
Great product
I really like both of the mats, good sizes and they work well
Send a hint
Get the gift you love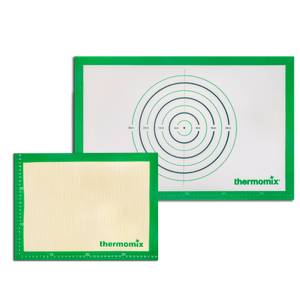 Send a hint by
Perfect for these popular recipes