THERMOMIX® TM6 & THE NDIS
A helping hand in the kitchen through the NDIS

THERMOMIX® TM6 & THE NDIS
A helping hand in the kitchen through the NDIS

Creating more independence in the kitchen with Thermomix®
Combining 20 cooking appliances in one compact NDIS-registered product, Thermomix® TM6 has everything needed to help build confidence and independence in preparing and cooking fresh, delicious, nutritious meals at home. This simple assistive technology brings an extra pair of hands to the kitchen that makes safer and lighter work of mealtime tasks. It brings more variety to every day with recipe inspiration, helps create meal plans and write shopping lists, and makes cooking favourite foods as easy as pressing 'next'.
Unique benefits to adding TM6 assistive technology to your NDIS plan
Combines 20 appliances in 1
Reduces physical tasks with hands-free functions and modes
Cooking steps and timings are all set and controlled
Built-in safety features give users greater confidence and protection
Taste and textures can be easily controlled with consistent results
Alerts can be adapted to suit different auditory preferences
Saves money, reducing the reliance on takeaway and meal services
Provides variety and healthy choices, reducing reliance on packaged foods
NDIS approved to make the kitchen a simpler and safer space
Thermomix® TM6 makes the kitchen simpler and safer, without the need for major home modifications or home assistance services. It keeps the kitchen space simple, safe and easy to physically navigate by replacing 20 kitchen devices and appliances with one easy-to-use appliance. And because it's compact and portable, it can be set up and used on a benchtop at a height that's best suited to the user and can be comfortably used from a seated position.
Built-in safety features provide greater protection, with locking arms that only release the lid when it's safe to remove, a heating element that only engages when cooking time is set, and a heat indicator with a simple red-light and easy-to-read screen temperature display.
Virtually hands-free meal prep and cleaning
Thermomix® TM6 helps more people prepare and cook the food they love for breakfast, lunch and dinner with confidence, without assistance, in their own home.
Simple step-by-step prompts are displayed clearly on the large TM6 touchscreen so cooking is as simple as adding the next ingredient and pressing 'next'.
The TM6 makes light and virtually hands-free work of the most repetitive tasks that can be a struggle or a strain. Dicing carrots and onions. Peeling potatoes. Grating cheese. Whipping cream. Beating eggs. Stirring sauces. Kneading dough. Mixing batters. These can be done at the touch of a button.
It does all the stirring to keep ingredients moving while it mixes, cooks, boils, sears or caramelises. And with the simple addition of the simmering basket and Varoma, it can cook rice and steam veggies and fish all in one go.
The TM6 practically cleans itself too, with the pre-cleaning mode doing most of the hard work to clean the mixing bowl after use, reducing the need to physically scrub cooking pots and pans.
Easy-to-follow guided cooking steps
Cookidoo®, Thermomix's own recipe platform, is a Wi-Fi-connected recipe library that's easily accessed through the Thermomix® touch screen. It guides every step to completing a recipe, from adding and weighing each ingredient, to chopping, mixing, stirring and cooking through pre-set time, speed and temperature settings.
There are easy shortcuts for regular weekly or daily cooking tasks too, with pre-set modes such as Rice Mode, Kettle and Egg Boiler setting the time and temperature.
There's also the option to cook favourite recipes manually, by setting the time, temperature and speed using the intuitive touchscreen and dial.
When a step is complete, the Thermomix® TM6 turns off the heat and sounds an auditory alarm signifying that its ready to commence the next step to complete the recipe.
Adaptable settings for different needs and greater control
With many adaptable functions, Thermomix® NDIS assistive technology comes highly recommended by occupational therapists and carers throughout Australia.
With precise time and speed settings it's easy to control textures with consistent results, ideal for those with medical conditions such as dysphagia.
Sound alerts signal the completion of each cooking step and can be adjusted to suit different auditory preferences.
Cookidoo®'s search functionality also enables recipes to be searched by serving size and preparation time, as well as by ingredients, allergens and diets – such as vegetarian and vegan, gluten-free, nut-free and dairy-free – to suit individual needs and preferences. This makes it so much easier to cook for all food allergies, food sensitivities and special dietary requirements.
Hear what others have to say
Find out how Thermomix® can help the facilitate greater independence in the kitchen. Hear what Brodie Betts, Director of Ethical Caring Group, has to say on the topic.
Saving money, adding variety and supporting healthy eating
Thermomix® TM6 saves money by reducing reliance on packaged foods, takeaway and meal services, and supports healthy eating by making it easier to cook regularly with fresh, whole-food ingredients – increasing the nutrient density of meals and reducing the intake of additives.
With thousands of triple-tested recipes from the world's largest guided cooking library, available via the Cookidoo® mobile app and website, there's always plenty of inspiration to increase variety at mealtimes too.
Hear what others have to say
Find out how Thermomix® can help the facilitate greater independence in the kitchen. Hear what Brodie Betts, Director of Ethical Caring Group, has to say on the topic.
Cooking has never been easier
Generating weekly plans & shopping lists
Favourite recipes can be saved into easy-to-access recipe collections, added to a weekly meal planner and used to generate an ingredient shopping list using Cookidoo® via the Thermomix® TM6 touchscreen, or anywhere and anytime via the mobile app, or through the website on smartphones, laptops or desktop computers.
Support every step of the way
Unique to Thermomix®, our Consultants offer a direct helpline providing support every step of the way, from demonstrating the Thermomix® TM6 online or in-person, assisting with delivery and unboxing, setting up Cookidoo®, making recipe recommendations to make the most of TM6 and answering any questions.
Thermomix® demos and classes are also available for those keen to keep learning and advancing their cooking skills.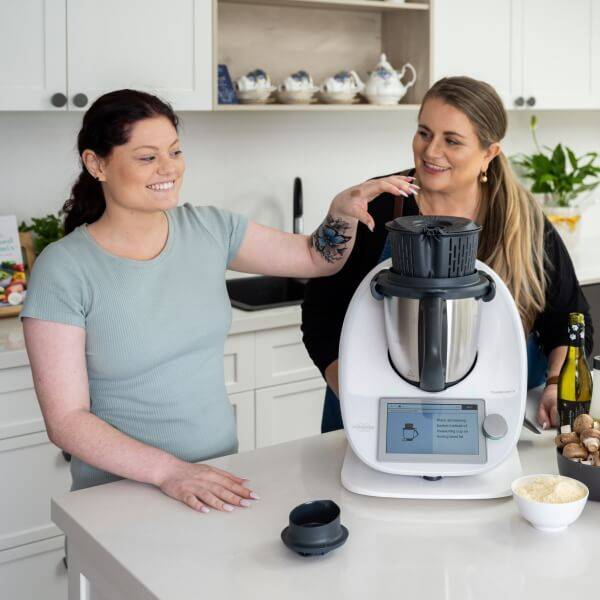 The Thermomix® TM6 includes a Varoma®, measuring cup, simmering basket, splash guard, butterfly, spatula and The Basic Cookbook, plus a 24-month warranty and a free 6-month Cookidoo® subscription.
Ongoing Cookidoo® subscriptions are AUD $69 per year.
Request a chat with one of our NDIS Program Consultants, and they will talk you through the features and provide personalised advice on how to utilise the Thermomix® TM6. Simply click to fill out our short online form and one of our Consultants will be in touch.
NDIS registered provider of assistive products for household tasks
The Mix Australia is a registered NDIS assistive technology and devices provider, offering level 1 and 2 NDIS equipment to support people living with a disability and mobility issues, as well as their carers. Our Thermomix® TM6 and Kobold products are categorised as 'Assistive products for household tasks' and 'Assistive products and accessories that are relating to participating in household tasks' under 'Capital Supports (Assistive Technology – Support Category 5)'.
If you would like to know more about how our products assist independent living, click to fill out our short online form and one of our NDIS Program Consultants will be in touch.