TM31 Service Update - Vorwerk, the manufacturer of Thermomix®, guarantees the availability of replacement parts and accessories for 10 years following production. The Thermomix® TM31 was last produced in 2014, which means that from 2024, we can no longer guarantee the availability of parts to support the service of TM31s, however the green sealing ring will continue to be available.
This three-piece set contains the Varoma dish base, the Varoma insert and the Varoma lid. 
All components, including the handle, tray and lid are all manufactured using food-safe, high-quality materials that are dishwasher safe. 
67%
of reviewers would recommend this product to a friend
I don't recommend this product
Incorrect Item Ordered and No Exchange
I inadvertently ordered the incorrect item (Varoma for TM31 instead of TM5). I tried to contact to enquire about returning and re-placing with the correct item (and paying any cost difference), but had no response from Thermomix. I now have a Varoma I can't use.
Sorry to hear you haven't had the best experience so far Christina. I have asked our customer service team to get in touch regarding this and offer some assistance. Let should be in touch early next week. I hope that helps.
Varoma
Love it! Gives me so many more options of what to cook, and it's such a healthy way to cook (steaming)
Send a hint
Get the gift you love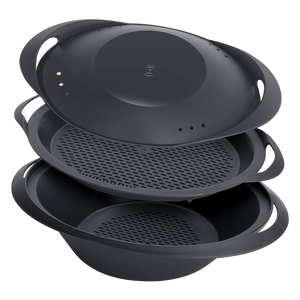 Send a hint by