TM31 Service Update - Vorwerk, the manufacturer of Thermomix®, guarantees the availability of replacement parts and accessories for 10 years following production. The Thermomix® TM31 was last produced in 2014, which means that from 2024, we can no longer guarantee the availability of parts to support the service of TM31s, however the green sealing ring will continue to be available.
Our biggest secret to multi-tasking and speeding up prep time is no secret – it's a second Thermomix TM31 Bowl Blade and Lid Set. Once you've got an extra bowl for your Thermomix, you'll wonder how you ever managed with just one!

It's super handy when your bowl, blade and lid are in the dishwasher and you need to get dinner on pronto. Or when you're having a big cook-up, and you don't want to stop everything to wash up between recipes. Or when you're cooking for a guest with allergies – a second TM31 bowl, blade and lid set means you don't have to worry about the risk of any cross-contamination.

Prove dough while making a killer filling for your pizza pockets and breads. Melt chocolate and set it aside while you whip up your egg whites in your clean extra bowl for a quick mid-week chocolate mousse treat.
Create healthy wholefood ingredients from scratch, like almond meal, without breaking your flow making your main dish. Or whip up a quick gravy in your extra bowl, as soon as your mashed potato or steamed veg are ready to go.
Key Features
It's super handy to have an extra TM31 bowl
Multi-task and speed up your prep time
Cook your mains and dessert at the same time
Cater for allergies without risk of cross-contamination
Includes base, blade, lid, measuring cup, basket and butterfly whisk
Lid includes the new green seal
90%
of reviewers would recommend this product to a friend
TM31 Bowl Blade & Lis set
Back Up Bowl
Great to have a second bowl
Send a hint
Get the gift you love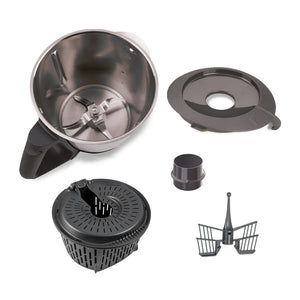 Send a hint by