We didn't think it was possible to improve on our iconic best-selling bread tin with lid and Thermomix bread recipes, until we tested it with the non-stick stuff of legend – our rose gold coating. Why didn't we think of this sooner?

Combining heavy-duty, high-quality carbon steel for even heat distribution with our signature non-stick surface to effortlessly release your loaves, it's a match made in breadmaking heaven that wins floured hands down!

It does all your home dough-making justice with consistent results – whether you're on a mission to save money (up to $3 less than store-bought loaves), reduce your waste (ditching the bags and tags) or improve your health (no additives or preservatives here). And that lid gives you the perfect answer to the question 'How to make sandwich bread.'  Slide it shut, and you'll turn out perfectly firm and crusty square loaves for sandwiches and toasties, every time.
Key Features
High-quality bread tin with lid made from carbon steel
Even heat distribution for consistent baking results
Legendary non-stick surface effortlessly releases your loaves
How to make sandwich bread at home
Sliding lid for firm and crusty square loaves every time
The perfect gift for a home baker
The inside of the bread tin measures 270 (L) x 110 (W) x 110 (H) and can hold 2.8 litres.
Before first use, handwash in mild soapy water with a soft cleaning cloth, then dry with a tea towel, grease the inside of the tin and lid and place in a warm oven for 10 minutes to dry thoroughly. Now it's ready for your first loaf!
Between bakes, a quick wipe with a dry kitchen towel while the tin and lid are still warm should be enough to clean your tin. But if it needs washing, or you're lining your tin for baking Madeira cake or banana bread, repeat the steps above, remembering to grease and dry in the oven again ready for next use.
Whilst the bread tin can be cleaned in a dishwasher, we recommend handwashing where possible to preserve the non-stick surface for an extended lifespan. Please refrain from soaking it in water or using metal utensils, knives, abrasive cloths, cleaners, or highly alkaline detergents to ensure optimal performance.
Before storing away, ensure your tin and lid are both thoroughly dried and choose an area in your kitchen or pantry that's free from moisture. We recommend storing with the lid on and avoiding stacking tins inside – that might save space, but it's likely to scratch and compromise the non-stick surface.
Add your dough to the tin just before you transfer it to the oven and release your loaf immediately to cool on a rack. It's the golden rule for taking good care of any good bread tin, as leaving bread to prove or cool will expose it to too much moisture and can cause rust to develop.
Some surface discolouration may occur with use over time, but this doesn't affect the integrity of the non-stick surface.
Send a hint
Get the gift you love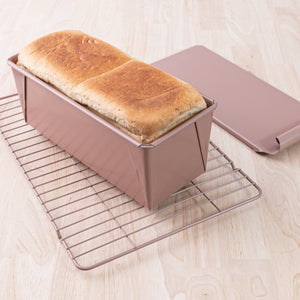 Send a hint by
Perfect for these popular recipes