Be first to rock up and fire up with the new Ovana Pizza Oven Stand and take your pizza nights and parties to the next level, anywhere you choose. It's a fully customised cooking station that's compact enough to fit any outdoor kitchen, backyard or balcony and collapsible to pack and go. Yet it's sturdy and solid to securely hold your oven at optimal cooking height, and the smartest way to avoid putting your Ovana Oven on a combustible surface while you cook.

Just like our Ovana, it's built to last from high-quality, heavy-duty, powder-coated metal, plus a long wish list of pizza oven stand design features requested by our Recipe Development team and Thermomix Consultants.

It had to be effortlessly collapsed down flat and popped up ready to get fired-up wherever and whenever the pizza parties at. So, we made the frame fold with a smooth scissor action and added two solid but lightweight steel shelves to hold it together firmly. There's even a hole on each side to hook and hold both Ovana pizza peels.

All four legs of the pizza oven table are the perfect fit for all four Ovana feet to slide neatly into the top, and they're set at the ideal height for good ventilation and easy cooking, allowing you to clearly see into your pizza oven and check your food as it cooks. 
The bottom shelf is big enough to transport your gas bottle to the spot you want to cook (always place it to the side before you fire up your Ovana)  to securely hold your Ovana Pizza Oven Stand in place. 
We also added a sturdy steel pocket on the front of the pizza oven stand to safely hold the Ovana door while you pop your pizzas, breads and Sizzler Pan in and out of the oven. It's deep enough to hold other essential pizza accessories too, like your Ovana Aramid gloves. 
Key Features
Custom-designed portable pizza oven stand for the Ovana
Free-standing and compact to fit any outdoor kitchen, backyard or balcony
Collapses flat with scissor action for easy storage and camping adventures
Built to last - made of quality, heavy-duty powder-coated metal
Pizza oven table height set for optimal cooking convenience
Matt black powder coating and brushed steel to match the Ovana
Flat packed and simple to assemble
Two shelves and hooks to hold your peels and Ovana accessories
Pocket to hold the Ovana door or your condiments and drinks
Shelf to store the gas bottle while not in use
Heavy duty and easy to manoeuvre lockable castors
Width – 49cm 
Depth – 53cm 
Height – 102cm 
Full height of the Ovana Pizza Oven Stand with Ovana Oven placed on top – 163cm 
Powder coated and made of quality, robust and weather-resistant carbon steel, the Ovana Pizza Oven Stand can be kept outside and safely secure your Ovana. We recommend leaving a clearance of 1m around your Ovana Oven when it's in use and allowing all surfaces to cool completely before wiping clean with a soft damp cloth and storing away.
Love it!
Simple, fast and great end result. Thanks
Perfect pizza oven stand
This stand is great! Perfect height and makes the oven in incredibly portable and easy to use. Great storage too.
Needed base
The stand does what it functional says. The locks on the wheels are very useful and needed on hard surfaces. I like the utensil tray and shelf.
Send a hint
Get the gift you love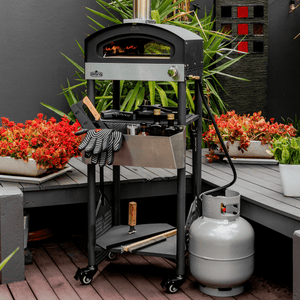 Send a hint by
Perfect for these popular recipes