Our silicone snack bar mould is that little bit wider for making perfectly portioned healthy treats from scratch. It's a family fave for making snacks for kids' lunchboxes, as it doubles as a mini cake pan. And it's a big hit with wellness warriors getting into making their own granola bars and freezing raw protein energy bars ready to grab and go.

If you're on a budget or a zero-waste mission, you'll be amazed how much you can save on your weekly shopping bill and reduce your use of plastic packaging with this silicone snack bar mould in your life. You don't even need to buy baking paper to line the tray. It's flexible making it quick and easy to pop out your healthy homemade snack bars, slices, mini cakes, fudge and ice cream bars.

Yes! You can use your silicone snack bar mould and mini cake pan for a portion-controlled indulgence in mini chocolate bars, fudge slices and ice cream bars. It's made to withstand temperatures from -60°C in your freezer and up to 230°C in your oven, and can go in your dishwasher for a quick and easy clean-up.
Key Features
Makes six perfectly sized snacks
Make muesli bars yourself, know what they contain and what goes into your body
For healthy homemade granola bars, energy bars and raw treats
Great for portion-controlled fudge slices, chocolate bars and ice cream bars
Ideal for kids' lunchboxes
Doubles as a flexible cake mould and bakes perfectly evenly
Great for making butter blocks, freezing baby food, pastes and stock
Dishwasher safe, Freezer safe to -60°C and Oven safe up to 230°C
Easy demoulding thanks to the flexible silicone
Made from premium quality, food-safe silicone
Total mould dimensions: Width: 29.5cm, Length: 12.5cm, Depth: 1.5cm.
6 sections each measuring: Width: 3.5cm, Length: 10cm, Depth: 1.5cm
Our silicone snack bar mould and mini cake pan is safe to go in your freezer, oven, microwave and dishwasher. Avoid exposure to direct heat, like under grills, on stove tops or on barbecues.
Silicone snack bar moulds
Perfect
Perfect for snack bars. Easy to turn out n clean
Send a hint
Get the gift you love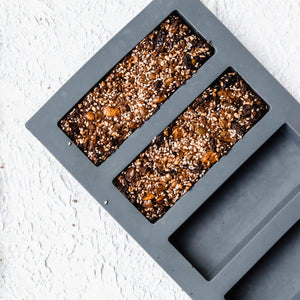 Send a hint by
Perfect for these popular recipes