The Kobold VK7 Variable Nozzle Set (VD7) is a three-piece set that is comprised of the variable nozzle, a drilling attachment and a crevice brush.

The centrepiece, the variable nozzle, features an extendable and flexible tip that will reach into even the most hidden-away dust spots.

The crevice brush fits onto the tip of the variable nozzle and enables it to access extremely confined spaces. Perfect for vacuuming skirting boards and spaces between furniture and bookshelves.
The drilling attachment allows you to collect brick and drill dust as you go about our DIY tasks. With the attachment pushed onto the tip of the variable nozzle and the VK7 cordless handheld vacuum cleaner switched on, the drilling attachment adheres to walls (via suction) below intended drill holes, sucking in any drill dust created during drilling.
Key Features
Suitable for Kobold Cordless Vacuum (VK7)
Locking mechanism for one-handed operation
Send a hint
Get the gift you love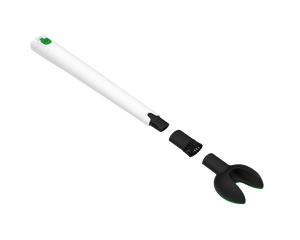 Send a hint by