A specially developed powder for hygienic, in-depth mattress cleaning. It removes allergenic substances such as house dust mite excrement and fungal spores. This powder is optimally effective in combination with the Kobold Cordless Vacuum (VB100 & VK7) Mattress and Upholstery Set.
Mattress dry cleaning powder
For best results, use with the 

Kobold Cordless Vacuum (VB100 or VK7) Mattress and Upholstery Set.

Acts thoroughly and gently at the same time
TUV certified suitable for allergy sufferers, effectively reduces allergens
Promotes restful, healthy sleep
Fast, simple application
Contains only very mild substances
Specifications

Box contains 6 x 120g sachets of Lavenia Mattress cleaning powder, sufficient for 6 mattresses (1x2m).
Easy to use: Vacuum the mattress with your Vorwerk Kobold Vacuum Cleaner. Evenly sprinkle over the Lavenia powder and massage in using the Kobold MP100 Dry Cleaning Mattress Attachment. Leave for 30 minutes and vacuum away using the Mattress Brushes.
Thoroughly seal any leftover powder in the bag.
100%
of reviewers would recommend this product to a friend
Send a hint
Get the gift you love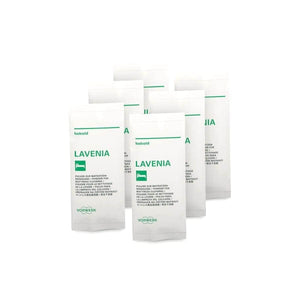 Send a hint by