Give yourself three cheers for making your kids' party food from scratch and gift yourself the Thermomix Hip Hip Hooray! Kids' Party Cookbook. With 84 impressively easy kids party food recipes for home cooks of all skill levels, it makes child's play of catering for 5 to 12 year olds. We've even shared our best baking and decorating tips and tricks, so everyone can bake like a pro and create Instagrammable cakes that wow the crowd and put smiles on little faces.
Every kid knows birthday party food is a big part of the party fun, but all the prep can be hugely time consuming. Your Thermomix and the Hip Hip Hooray! Kids' Party Recipes cookbook will be the extra helping hands you need, with lots of kids' party food ideas that can be frozen or prepared ahead of time and finished on the day. The intro is packed with party planning inspiration and tips and tricks so you can avoid that night-before panic attack!
And we've made sure no one will miss out on the fun, with many of the kids' party food recipes suitable for allergies and intolerances. We're talking 50 vegetarian, 81 nut-free, 28 dairy-free, 38 egg-free and 34 gluten-free kids party recipes. There's even an allergy-free themed party menu!
But it's much more than kids' birthday party food ideas. It's our go-to for family barbecues, morning teas and creative fun in the kitchen during school holidays. And many of the recipes in our Hip Hip Hooray! Kid's Party Recipes Cookbook double up as mid-week meals and lunchbox favourites too. In fact, you'll find 20 recipes highlighted with the little lunchbox symbol to give you inspiration every week.
Suitable for Thermomix models TM6, TM5 and TM31.
Key Features
84 incredible kids party food recipes and ideas catering for 5 to 12 year olds
20 recipes that double as great lunchbox ideas
Inspiration for all skill levels, from novice to advanced
Themed kids' party food ideas and menu inspiration (including an allergy-free party menu)
Creative cake decorating tips and tricks
Let's get this party started! Here's a few of our personal favourites from the Thermomix Hip Hip Hooray! Kids' Party Recipes Cookbook that get the mmms, oohs and aahs, put big smiles on little faces and double as great ideas for any occasion.
Soft cinnamon doughnuts
Oh so quick, easy and moreish, you'll wonder who ate the whole batch (as you discreetly wipe away the crumbs off your face)! Prep them for the oven with our doughnut tin . They're best eaten on the day you bake them (giving everyone the perfect excuse to have another), but they will keep for one day in a sealed container. View the Soft cinnamondoughnuts recipe on Cookidoo.
Chocolate zucchini cupcakes with blueberry icing
Our go-to cake or cupcake recipe for every occasion. It's allergy-friendly, so you'll never need to stress about who's going to turn up at the door. It's perfect for purple-themed parties too. View the Chocolate zucchini cupcakes recipe on Cookidoo .  
Little piggy faces 
Squeeee! These little savoury piggies are cute as a button and disappear off the plate fast! Have your ThermoMat ready to roll, plus two lined large baking trays and have some creative fun with your piggy faces. View the Little piggy faces recipe on Cookidoo .
More recipe inspiration
100%
of reviewers would recommend this product to a friend
Great kids book
This book is great for parties and gatherings. There are so many great recipes that I loved and my grandkids enjoyed picking out recipes with my granddaughter cooking a few things out of the book.
Kids Cookbook
Lots of great ideas and things to try
Great cake decorating ideas
There are some clever achievable recipes in here. A favourite recipe is wagon wheel slice, book is worth it for that alone according to my husband.
Send a hint
Get the gift you love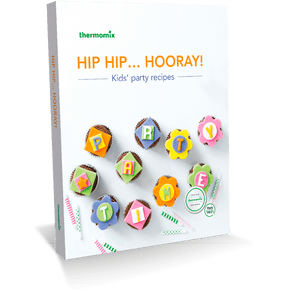 Send a hint by
Perfect for these popular recipes