No need to get in a flap to keep flies away from food outside, or out of your kitchen, because you've got the most stylish and clever fly fan for your outdoor table, barbecue area, benchtop or camp kitchen, right here.

Our picture-perfect outdoor lifestyle here in Australia is the envy of the world, but we all know the moment the perfect alfresco dining and camping weather arrives, so do the pesky bugs and flies. So we set out to find the most elegant fly-repellent solution for your table, and this fly fan was the winner, hands down.

It's portable and oh-so sleek, especially in our signature Thermomix rose gold.

How does it work? See those repel dots on each of the soft propellor blades? They spin and reflect light to create the movement flies and bugs hate. And the real beauty, as well as its minimalist design, is the soft blades immediately stop when a hand touches them and start spinning again as soon as the hand moves away.
So all your guests, including the little ones, can safely and easily help themselves. You don't have to worry about your creations getting contaminated. And your outdoor table will always look inviting and amazing with a strategically-placed fly fan or two, or more.
No unsightly and fiddly food covers here. No free hands or sharp eyes needed to keep flies away from food outside, or in your kitchen. You can just relax and enjoy fly-free entertaining.
Please note, you'll need two AA batteries to power your fly fan (not included). We recommend using high quality rechargeable batteries that are under 5 years old to ensure optimal performance and minimal cost.
Key Features
The most elegant way to keeps flies away from food outside
Safety feature – soft blades stop when touched by hands
Available in sleek matt black and our signature rose gold
Unique holographmatic dots on each blade create the movement flies hate
Each fan has a fly repellent radius of 65cm
Stylish, fly-free entertaining, barbecues, picnics and camping
Dimensions: 8cm W x 25cm H
Wipe the fly fan with a slightly damp soft cloth to remove any food spatters. We also recommend two AA rechargeable batteries to keep your fans running for a lifetime with minimal cost and waste.
I don't recommend this product
One of the battery springs does not hold the battery well
Disappointed in the quality. One of the springs in the battery case does not hold the battery well and tends to make the fan stop and start. No problem with the other one but Australian flies must be extra persistent.
Hi Claire, thank you for your review. Someone from our team will be in touch to help.
Fly Away Fan
Works well & happy with purchase.
Send a hint
Get the gift you love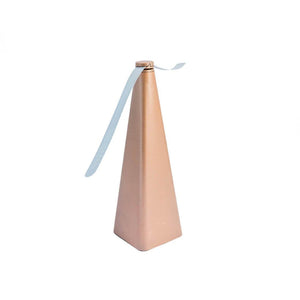 Send a hint by
Perfect for these popular recipes