Nothing fills a kitchen with warm and fuzzy festive feels quite like the sweet smell of shortbread or gingerbread cookie shapes wafting from the oven. And our cutest set of rose gold cookie cutters brings some modern style to that time-honoured holiday tradition or any celebration for that matter. 

Just let your Thermomix do its cookie-dough-from-scratch magic and grab these gorgeous little rose gold cookie cutters to make shaping super easy and so much fun.

Of course, we've included the obligatory gingerbread man and star cookie cutter, but we've also added tree, angel, candy cane and reindeer cutters to complete your set.

They're perfectly sized for gifting homemade gingerbread cookie shapes, but also make the sweetest gifts for cookie bakers of all ages. And if you're searching for rose gold Christmas ideas, they'll look fabulous on the feasting table with your Thermomix Rose Gold bakeware collection.
Get mixing with your Thermomix. Roll out your dough. Press in your cutters. Bake. Treat. Eat...and repeat!
Key Features
Six super-cute and stylish rose gold cookie cutters
Easy to use. Kids and big kids will love them!
Ideal gifts for cookie bakers
Fun-sized homemade gingerbread cookie shapes make cute seasonal treats and gifts
Perfect for holiday baking fun with the kids
Set of six includes star, gingerbread man, angel, candy cane, tree and reindeer biscuit cutters
Food-safe coating and easy to clean
Rose gold Christmas ideas to match your Thermomix Rose Gold bakeware
Gingerbread man: height - 8.5cm, width - 7cm, depth - 2.5cm
Tree: height - 8cm, width - 6.5cm, depth - 2.5cm
Candy Cane: height - 8cm, width - 4.5cm, depth - 2.5cm
Reindeer: height - 8.5cm, width - 8.5cm, depth - 2.5cm
Star: height - 8.5cm, width - 8.5cm, depth - 2.5cm
Angel: height - 8.5cm, width - 9.5cm, depth - 2.5cm
Our rose gold cookie cutters are easy to clean, but not dishwasher safe. To keep them looking and cutting at their best, hand wash with mild soap and warm water, dry with a tea towel and store them in a dry place – free from high moisture and humidity. For removing stuck-on food, simply soak in warm water to loosen. Avoid washing with harsh, high-alkaline detergents and abrasive cleaners and scrubbing pads, or using metal utensils or knives on the cookie cutters.
Perfect
Arrived quickly and good quality
Cookie cutters
they should be good when i decide to use them
Gift
These were a gift to my daughter
Pretty finish, quality product
A great selection of cutters, with a nice finish, made of quality material.
Send a hint
Get the gift you love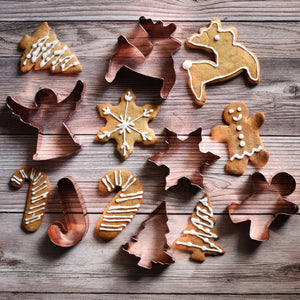 Send a hint by
Perfect for these popular recipes