Healthy homemade bread made in your Thermomix is the stuff of legend and stays fresher for longer in our sleek, white bread box with bamboo lid – perfectly sized for loaves made in our bread tin.

We didn't want to bring you just any out-of-the box countertop bread box. We wanted a white bread box with bamboo lid that was large enough to fit loaves made in our bread tin – yes, we had it made to measure! But it also had to be compact enough to fit anywhere on the countertop and leave plenty of space for rolling, cutting, scoring and shaping your breads.

Our Recipe Development team unpacked all the bread box designs. They wrestled with super-sticky lids on airtight bread storage containers and grappled with heavy chopping board lids. And they finally found the perfect easy access and sustainable solution with a lightweight, slidable bamboo lid that doubles as a nice serving board for your bakes.

Ultimately, we ended up with a sleek and minimalist white bread box with bamboo lid that's the best thing since fresh sliced bread made in your Thermi. A must-have for your kitchen countertop and a lovely housewarming gift too.
Key Features
Keeps your home-baked breads fresher for longer
Clean white minimalist design looks stylish in any kitchen
Perfectly sized to fit loaves baked in our bread tin
Compact, not bulky, to save space on your countertop
Light and sustainable bamboo lid that slides for easy access
Food safe and sturdy – made from iron with a matt-white powder coating
Makes a lovely housewarming gift
Height: 16cm
Width: 21cm
Length: 33cm
Simple to use and easy to clean. Rinse or handwash the metal bread box and bamboo lid with a soft cloth after emptying, then pop it back on the countertop ready for your next fresh batch of home baked bread. To keep it looking its best, we recommend using the bamboo lid as a serving board only, not a chopping board. And avoiding harsh, high-alkaline detergents, abrasive cleaners and scrubbing pads.
Bread box
Great except for not being a sealing tin
Bread Box
really great size & fits more than one loaf!
Bread Box
Keeps bread really fresh.
Send a hint
Get the gift you love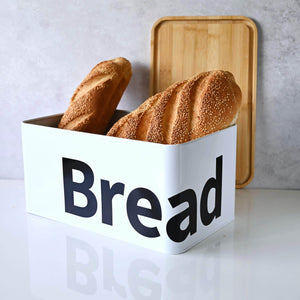 Send a hint by
Perfect for these popular recipes