Say see-ya to single-use plastic and make the switch to our silicone reusable ziplock bags, freezer bags and snack bags for easy meal prep and food storage. 

Airtight and leakproof, bulk food shopping is a breeze at the butcher and deli with these reusable zip-lock bags. Keep your veggies and salad ingredients crisp in your fridge, and your cut sandwiches fresh for lunch on the go. Our extra large ziplock bag is your perfect answer to the big question of how to keep celery fresh! 

Stain-proof and odourless, they're perfect for marinating meat, tofu and vegetables. And they're a money-saving game-changer if you've been storing stock paste, soups and smoothies in your freezer in single-use bags. 

Available in small 1-litre sizes, ideal as reusable snack bags or a sandwich bag, as well as large (1.5 litres) and extra-large (4 litres) sizes. They stand upright and withstand temperatures from -50°C up to 230°C. So, yes! You can even reheat food in our reusable ziplock bags. Just remove the rigid slide and pop them in the oven, the microwave, or a pot of boiling water.  
These food-safe reusable zip lock bags are flexible and won't harden or crack with age. 
They can go in your dishwasher for easy cleaning too! 
Key Features
Reusable and reduces plastic waste – say see-ya to single-use bags
Reduces food waste – keeps produce fresher for longer
Fridge and freezer safe – no icing up or freezer burns
Oven and microwave safe
Airtight, leak-proof seal for storing liquids
Stain-proof and odourless – ideal for marinades and meal prep
Easy to clean, dishwasher safe
Made from premium quality, food-safe silicone
Available in extra-large 4L, large 1.5L and small 1L
Extra-large ziplock bag answers the big question - how to keep celery fresh
MINI (0.5L)
Length: 20cm
Height: 9.5cm
Base: 6cm
MEDIUM (1L)
Length: 20cm
Height: 17cm
Base: 8cm
LARGE (1.5L)
Length: 24cm
Height: 17cm
Base: 8cm
Extra LARGE (4L)
Length: 24cm
Height: 37.5cm
Base: 8cm
Super easy to clean. Just remove the rigid slide and pop in the top drawer of your dishwasher (open end facing down) and allow to air dry thoroughly before storing flat in a drawer. Before using your new reusable ziplock bags for the first time, or if you've not used them for a while, we recommend hand washing in mild soapy water and leaving to air dry. Make sure you're careful when handling hot contents in our Zip Lock Pouch.
I recommend this product
Great
A bit hard to open initially but then is jus fine. Happy to have silicone rather than plastic!
I don't recommend this product
So hard to get on & off
These are not what I thought they were going to be
I don't like how hard it is to use the slider , Just awful
Hi Maryann, we're sorry to hear you're having trouble. Our team will be in touch to follow up on this with you.
Zip lock pouch
They are very good and durable
Zip lock pouch
They will be handy, storing all sorts of items that need sealing.
Send a hint
Get the gift you love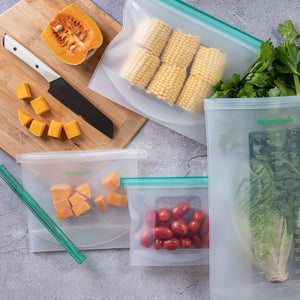 Send a hint by
Perfect for these popular recipes