Treat yourself to Sweet Nourish by Louise Keats and you can have your cake and eat it too, with some clever wholefood ingredient swaps for all your baking staples. Discover ways to reduce those refined sugars and fats, make the most of wholegrains, eggs, fruits and vegetables, and dig into 80 easy healthy desserts, cakes, muffins and cookies, full of flavour and sweet goodness.

"The world feels like a better place with a sweet treat in it," says nutrition writer Louise Keats as she introduces her third Thermomix cookbook, Sweet Nourish. "There are plenty of traditional recipes loaded with sugar, fat and white flour. They taste delicious, but they're lacking any goodness. And at the other end, there are highly restrictive recipes, maybe sugar or fat free, but the results are disappointing. This book is designed to be the best of both worlds – both delicious and nourishing."

Getting back into the kitchen and cooking healthy Thermomix desserts from scratch is one of the most empowering ways to take control of your health. And Louise Keats shares all her sweet secrets for treating the body and soul, with tips on avoiding preservatives and additives, clever swaps for processed products, choosing the healthiest sweeteners, fats and oils, and recipe adjustments for special dietary needs.
So, go ahead! Nourish your body with 27 easy healthy desserts. Feed your soul (and face) with 13 wholesome cake recipes. Get through the morning with 20 healthy muffin, drink and bread recipes. And beat the 3 o'clock slump, with nine Thermomix slice and cookie recipes.
Suitable for Thermomix models TM31, TM6 and TM5, Sweet Nourish by Louise Keats is also available as a recipe chip. Save when you purchase a pack containing the cookbook and recipe chip.
Key Features
Have a healthy and nourishing diet without missing out on dessert
Dig into 80 easy healthy desserts, cakes and sweet treats
Clever ingredient swaps to reduce refined sugars and fats
Get the most flavour out of healthy wholegrains, eggs, vegetables and fruit
Healthy cake, healthy cookie, healthy muffin and healthy slice recipes
How many of Louise Keats' Thermomix desserts are suitable for dietary requirements and allergies? In her Sweet Nourish cookbook, Louise shares some great tips on adapting recipes for dietary needs and every recipe includes allergy/dietary symbols. You'll find 41 nut-free and 39 egg-free options, 20 dairy-free and 38 gluten-free recipes, plus 77 vegetarian, 12 vegan and 9 raw treats too.
We love Louise, and we love her philosophy on eating nutritious food but not giving up your favourite treats – not when you can easily create your own delicious desserts and cakes from scratch in your Thermomix. There's goodness and yumminess in generous serves here!
Simple chocolate hazelnut cake  
This is Louise's all-time favourite chocolate cake. So easy and delicious, it's easy to see why. "It's affectionately known as Chillax Cake in my house, because the first time my son tried it he closed his eyes, flopped onto the floor with an enormous smile and declared that it made him feel 'just so relaxed, Mummy!' I have to agree, there is something deeply comforting about taking a break over a proper piece of chocolate cake." View the Simple chocolate hazelnut cake recipe on Cookidoo. 
Wholegrain scones  
It can be tricky getting recipes for gluten-free scones just right, and Louise was determined to include a recipe in this book that did them proud. "The quinoa and millet flours add some grain variety and a lovely nutty flavor to the brown rice base. The wonderful thing about your Thermomix® is you can mill all your own flours from scratch." View the Wholegrain scones recipe on Cookidoo. 
Baked pumpkin doughnuts  
These baked pumpkin doughnuts are an ideal indulgence. Dusted with cinnamon and perfectly tender, they're just as good (if not better) than their deep-fried cousins. And they bake perfectly evenly in the Thermomix Rose Gold doughnut tin. View the Baked pumpkin doughnut recipe on Cookidoo.
100%
of reviewers would recommend this product to a friend
A beautiful book with healthy sweet options
This lovely book has some great healthy recipes that also satisfy our sweet cravings. I enjoy using a recipe book - it's even fun to sit in a chair to read this book through and earmark future selections to try.
A Must Have
This is my new Favourite Book. Despite thousands of recipes on Cookidoo, sometimes it is nice to sit with a cup of tea and flick the pages. I have made one of the Chocolate cakes which was absolutely delicious.
Happy
I'm happy with my purchase, I haven't cooked anything as yet however
Sweets, Sweets, Sweets
There are some amazing recipes in this book that as a Type 2 diabetic even I can have on the odd occasion!
Send a hint
Get the gift you love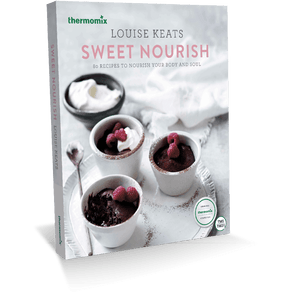 Send a hint by
Perfect for these popular recipes