Freshly made Thermomix pizza dough is the stuff of legend and our rose gold extra-large pizza tray with holes takes it to next-level gold standard! More than just adding a bit of extra sparkle to your home pizza-making kit, this is how to get a crowd-pleasing large pizza base that's perfectly crispy. Every. Single. Time. 

To make that big, bold claim, we super-sized our best-selling pizza tray and made it extra large. We reinforced it with a stainless steel ring to make it stronger. And we added more holes to give your pizzas the whole shebang – distributing the heat evenly to create a heavenly crispy base.

Made from the highest quality carbon steel, with high sides and our gorgeous signature rose gold non-stick, non-toxic baking surface, our large pizza tray is also extra versatile. We especially love the ease of pleasing a party crowd with a herb and garlic pull-apart bread or hazelnut chocolate brioche.

*Please note this Rose Gold Pizza Tray does not include the Pizza Knife. Not suitable for use in the Ovana Portable Pizza Oven.
Key Features
Makes perfect crowd-pleasing crispy-base extra-large pizzas
Extra holes for even heat distribution and consistent baking results
Gorgeous Thermomix signature Rose Gold non-stick surface
Made from high-quality, heavy-duty carbon steel
Reinforced with a ring on the base for extra strength
Extra large means extra versatile too – for garlic breads and brioche
Non-toxic PTFE and PFOA chemical-free coating
Add to your rose gold bakeware collection
Triple tested by the Thermomix Recipe Development team
Home oven safe to 230°C
Our quality non-stick pizza tray coating makes it super easy to clean, however it is not dishwasher safe. We recommend handwashing with a mild dishwashing soap, warm water and a soft cloth, wiping dry with a tea towel and storing your tray upside down. To loosen stuck-on food, simply soak in warm water. To slice and serve, transfer your fresh cooked pizza to a food-safe chopping board – that way you'll protect the non-stick pizza tray surface. Avoid using metal utensils or knives, harsh and abrasive cloths and cleaners or highly alkaline detergents. Some surface discolouration may occur with use over time, but this doesn't affect the integrity of the non-stick surface.
Outer diameter 36.6 cm
Inner diameter 34 cm
Height/depth 1 cm
Best pizza tray
Doesn't stick like others. Very good quality
Rhondel Scott
Pizza cooked so quick and crisp
Enjoying the quality
Solid, smooth and non stick. What more could you ask for in a pizza tray?
Rise Gold Pizza Tray
Best product for cooking heating pizzas
Send a hint
Get the gift you love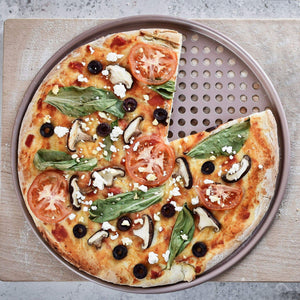 Send a hint by
Perfect for these popular recipes