This lightweight loaf pan consistently bakes your favourite go-to banana bread recipe to grammable gold standard, and raises your meatloaf, nut loaf and fruit loaf baking game too. We had it cast from heavy-duty carbon steel, for perfectly even heat distribution, and added our superior-quality rose gold non-stick surface to effortlessly release your loaves and stylishly complement your kitchen décor.   

It's 7cm deep and 24cm long to give you just the right size slice for breakfasts, morning teas, packed lunches, bring-a-plate parties, treats to go with your take-out coffee or to get you over the three-o'clock energy slump. Try our Recipe Development team's family favourites like date and nut loaf and sticky date pudding. Not forgetting our very own go-to Thermomix banana bread recipe. 

Oh, and did we mention our non-stick loaf pan is fridge and freezer safe? So much more than a bread baking pan, it's ideal for making chilled and frozen desserts like showstopper semifreddoes or cassata ice cream. 
Key Features
Consistent gold standard loaf baking results
Cast from heavy-duty carbon steel for even heat distribution
Rose gold non-stick surface effortlessly releases your loaves
Food-safe, non-toxic PTFE and PFOA chemical-free
Classic bread loaf pan design (6cm deep)
Essential addition to your rose gold bakeware collection
Lightweight for everyday use
Complements your on-trend kitchen décor
Our non-stick loaf pan is coated in our signature rose gold surface, making it super easy to clean. We recommend washing with a mild soap in warm water with a soft cloth, wiping dry with a tea towel and storing upside down.
Simply soak in warm water to loosen stuck-on food and slice and serve using wooden or silicone utensils. To protect the non-stick surface, avoid using metal utensils or knives, abrasive cloths and cleaners or highly alkaline detergents.
Some surface discolouration may occur with use over time, but this doesn't affect the integrity of the surface.
Inside width: 12.5cm
Inside length: 22.5cm
Height: 7cm
Full width (widest part): 14.5cm
Full length (widest part): 24cm
Please note the tin does taper in slightly at the bottom.
79%
of reviewers would recommend this product to a friend
Great quality and strong
I love the rose gold bakeware. Strong, non stick and great quality.
Love it
The rose gold loaf pan is a great size and I love the non stick coating. A great addition to my collection!
Perfect for a good loaf
Quite heavy and sturdy, loaves and meatloaf slip straight out, easy to clean, looks great and packs in the draw well.
Send a hint
Get the gift you love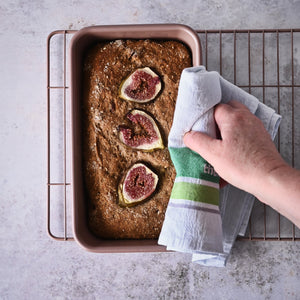 Send a hint by
Perfect for these popular recipes