A lightweight, non-stick lamington tray for easy handling, even heat distribution, effortless release and consistent baking results to please the lamington cake traditionalists and every kind of slice fan. It's sized just right to turn out 12 perfect squares of the sweetest bake-sale nostalgia, your favourite lunchbox savouries, or chilled raw slices.

Because we're pretty passionate about our national cake, we tested every lamington tray size, shape and style (using our triple-tested go-to Thermomix Lamington recipe, of course) and this is the one that got a coconut-coated thumbs-up all round. We especially loved the lightweight design, 3cm depth, and generously sized rolled edge, making it much easier to pop in and take out of the oven, fridge or freezer. Yes, it's safe for that too!

It's cast from heavy-duty carbon steel to give you the best heat distribution (oven safe up to 230°C) for consistently evenly baked buttery sponge cake. And it's finished with our superior quality rose gold non-stick surface to release every bit of baked goodness and stylishly complement your kitchen décor. 
Go classic and quick with the Thermomix Lamington recipe – done in half the prep time. Go double-layer, if you're on the jam and cream lamington team. Go maverick with red velvet or pandan leaf lamingtons. Go chilled with Raw lamington, Strawberry jelly or Mango and labne slices. And try out our all-time savoury faves in your lamington tray, like Zucchini slice, Sweet potato frittata and Tiropita.
Top lamington tip: Coating lamingtons always gets drippy and messy, and that's all part of the fun. But there's one neat and tidy trick that makes your sponge easier to dip in the chocolate icing and roll in the coconut without losing its shape or texture. Once you've allowed your sponge to cool, pop it back in your lamington tray and into the freezer for 30 mins just prior to coating.
Key Features
The easiest way to make Aussie gold standard lamington cakes
Thoroughly tested with our triple-tested Thermomix Lamington recipe
Cast from heavy-duty carbon steel for even heat distribution
Rose gold non-stick surface effortlessly releases your slices
Ideal lamington tray size for 12 cakes/slices
Oven safe up to 230°C, and fridge and freezer safe too
For sweet or savoury, classic or maverick bakes or chilled desserts
Food-safe, non-toxic PTFE and PFOA chemical-free lamington cake tray
Essential addition to your rose gold bakeware collection
Complements your on-trend kitchen décor
Inside length – 28cm
Inside width – 17.4cm
Height – 3cm
Full length (including rolled edges) – 30.5cm
Full width (including rolled edges) – 18.8cm
Coated in our signature non-stick rose gold surface, your lamington tray is a breeze to clean, and with a little extra care it will turn out your best bakes for years to come. We recommend greasing lightly with a cooking-oil spray before baking and hand washing in warm water with a soft cloth and mild soap. Wipe dry with a tea towel before storing it upside down. 
A quick soak in warm water will loosen stuck-on food and won't damage your lamington tray like abrasive cleaners or highly alkaline detergents. And be sure to reach for wooden or silicone utensils to lift, slice or serve, rather than metal ones.
Some discolouration may occur with use over time, but this won't affect the integrity of your tray or the quality of your lamingtons and bakes.
Send a hint
Get the gift you love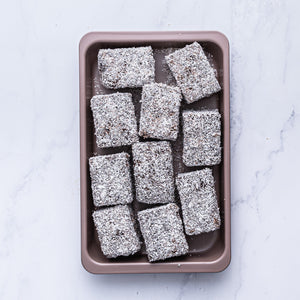 Send a hint by
Perfect for these popular recipes