Dreamfarm Mini Supoon is the silicone teaspoon measure that's got scooping, scraping and measuring down to a tee. Just like it's bigger Supoon sibling, from the utensil-making dream team at Dreamfarm, it's packed with multi-tasking features that have got us swooning over this little spoon.

With a flat squeegee tip, this long-handled teaspoon reaches right into the corners and sides of jars to scrape up every last little bit. So not a smidge of your Thermomix-made vegetable paste, mayo, yoghurt, preserves, nut butters and condiments, or your storebought faves, go to waste with Dreamfarm Mini Supoon.

And heads-up! This handy teaspoon measure and scoop for dry and liquid cooking ingredients doesn't need a spoon rest. The Mini Supoon sits up off the benchtop all by itself, thanks to its cleverly weighted handle. No need to wipe down or wash up either. It won't tip or drip a drop of mess and goes straight in your dishwasher.
Made to last from premium quality, food-safe silicone, it's heat resistant up to 260°C and safe for stirring and scraping cooked foods from your non-stick pans.
It's a great housewarming gift and the perfect party host too. Sit it on the table as a condiment teaspoon, or pop it on your build-you-own station and let guests help themselves to dips, pickles, dressings and sprinkles.
We're thrilled to bits to be able to bring you the Mini Supoon and more multi-tasking Dreamfarm utensils from the creative brains of Brisbane. And we can't wait to see what they'll dream up next.
Key Features
A silicone teaspoon measure and jar scraper in one
Built-in spoon rest – weighted handle holds it up off your benchtops
Long-handled teaspoon reaches right into the bottom of jars
Flat squeegee tip gets every last bit out of corners and sides
Great for getting the last scrape of vegetable paste, mayo or PB
Perfect condiment spoon for build-your-own burger stations
Made from premium quality, food-safe silicone
Heat resistant up to 260°C and safe for non-stick pans
Dishwasher safe for easy cleaning
Mini Supoon length – 20.5cm
Mini Supoon width – 2.5cm
When your Dreamfarm Mini Supoon has done its job, you can leave it to your dishwasher to do the last task of washing up. We recommend hand washing with a soft cloth in mild soapy water before first use and to remove stuck-on foods. And while it's heat resistant up to 260°C, keep away from hotplates, naked flames and direct heat sources.
100%
of reviewers would recommend this product to a friend
Mini supoon
Excellent concept & such a handy size
Deb
Rigid but flexible enough to cleanly scrape bottoms of jars.
Well suited to small jars & the 5ml capacity is a bonus!
Great spoon
This spoon is so handy. Love it
Send a hint
Get the gift you love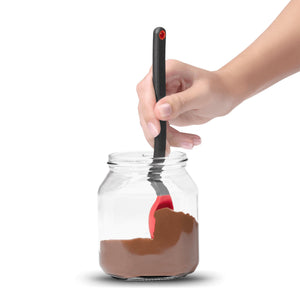 Send a hint by
Perfect for these popular recipes