This is one beautifully simple multi-purpose wooden spoon you'll want to keep in easy reach – especially when cooking with your non-stick, stainless steel or Firra cast iron cookware that requires a gentler touch.

Ever since the first wooden utensils were whittled from dense hardwoods, a good, sturdy, solid wooden spoon has been every cook's go-to. But our take on this traditional tool brings more than classic minimalist style to your modern kitchen.

The ergonomically angled edge makes it a dream for easy stovetop preparation and tapers into a neat little corner that gently scrapes, without scratching. Ideal for deglazing pots for making gravy and serving every last spoonful of your favourite comforting soups, gravies, casseroles and stews. 

There's a good-sized handle to give you a firm grip and keep your hands away from the heat while you're stirring your big pot of goodness. Unlike metal cooking spoons, it stays perfectly cool to the touch, even when left in a hot pot. And we dipped the tip to give it a flourish of lush green that'll look beautiful on your table with our Firra Cookware.
We chose European beechwood because it's got a nice tight grain and pores that makes it resistant to discolouring, warping, cracking and absorbing flavours and odours.  So our clever kitchen spoon will last you a lifetime with a little care. And due to natural variations in the grain, each wooden spoon is truly unique.
Key Features
Multi-purpose for stirring soup, deglazing pots for gravy and serving stew
Ergonomic angled edge for easy stovetop preparation
Tapers into a corner that gently scrapes, without scratching
Good-sized handle gives you a firm grip and protects hands from heat
Made to match and care of your Firra cast iron cookware
Safe and gentle on your non-stick and stainless steel cookware too
Solid cooking spoon crafted from European beechwood
Hygienic and resistant to discolouring and absorbing odours
Long-lasting with natural oil finish – resistant to warping and cracking
Adds classic minimalist style to your kitchen and table
Solid beechwood is naturally resistant to odour, warping and cracking, but this wooden spoon will serve you and your cookware well for many years to come if you keep it out of your dishwasher and avoid soaking.
Our best advice for cleaning wooden spoons is to give them a quick handwash in mild soapy water and let them air dry with the spoon-end up. If they start looking a little dry and feeling a little rough, give your spoons some natural anti-aging treatment using food-grade mineral oil or beeswax. Be sure to avoid treating wooden cooking spoons with vegetable and olive oils, as they can turn rancid.
100%
of reviewers would recommend this product to a friend
Wooden spoon
Lovely and comfortable to use
Perfect
A very nice spoon and easy to find in my overloaded drawers having the green handle.
Send a hint
Get the gift you love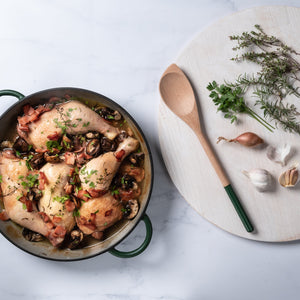 Send a hint by
Perfect for these popular recipes