The sturdiest stainless steel roasting rack to effortlessly lift your roasts to next-level – keeping the heat circulating around the meat, raising the core temperature slowly and evenly and cooking every side and crispy skin to perfection. It lets your meat shed all the excess fat you don't want on your plate but retains all the juices and flavours you do, and catches all the drippings in your Firra Cast Iron Baking Dish below for naughty-but-nice roast veggies, jus and sauces, if you choose to indulge.

Our Recipe Development team gave a whole range of wire roasting racks a thorough roasting to find a match for the superior heat distribution, durability and style of our Firra baking dish. Most were too flimsy. But this thicker-than-average heavy-weight is made from 304 stainless steel with strong, generously sized handles, firmly holding big family-sized meats and poultry and easily lifted with oven gloves.

Adding to that titan strength, it's finished with one of the most advanced non-stick food-safe surface treatments in the kitchenware universe – our signature rose gold titanium ion coating. So your cast iron rack releases food easily and perfectly intact without the need to oil before cooking.
Want to lift your roasting game to multi-layered flavours too? Your Firra stainless steel roasting rack and cast iron dish are your dream team for crowd-pleasing crispy roast potatoes and veggies. Just be sure not to fill all the space under the rack, or you'll stop the heat from circulating around the meat and defeat the whole purpose.
*Please note, the roasting rack does not include the cast iron baking dish or the silicone trivet.
Key Features
Raise roasted meats, crispy skin and multi-layer cooking to next-level
Circulates the heat and catches excess fat for healthier roasting
Made to fit and match the Firra roasting dish for quality, style and performance
High-quality, heavy-duty carbon steel for strength and even heat distribution
Firmly holds big family-sized meats and poultry
Superior food-safe, non-stick surface releases roasts easily and perfectly intact
Quick and easy to use - no need to spray before roasting
Generously sized handles for easy lifting with oven gloves
Catch the juicy goodness to zhoosh up your jus and sauces
Create multi-layer flavours and let your veggies roast in the juices below
Length: 25.5cm
Width: 20.5cm
Height: 8.8cm
It's dishwasher safe for easy cleaning, but with a little care your non-stick stainless steel roasting rack will last as long as your Firra cast iron cookware. We recommend hand washing in warm, mild soapy water with a soft dish cloth, then wiping dry with a tea towel. Soak in warm water to loosen stuck-on foods, as metal utensils and abrasive scouring pads can scratch the titanium ion coating. And rather than storing the rack inside your Firra Roasting Dish, keep them separate and lay the rack flat or upright.
Send a hint
Get the gift you love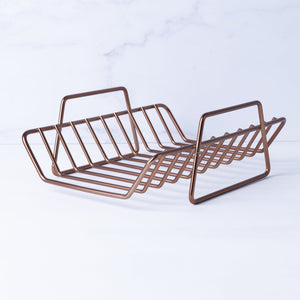 Send a hint by
Perfect for these popular recipes